Zurich to Samedan - March 2015
A trip from Zurich to Samedan – March 2015
It's been a while since I started planning a trip to Engadin with my wife who
had not flown with me for more than three years. After cancelling our plans
several times because of bad weather we finally succeeded to go ahead today.
And what a splendid weather we had! With the slow P28A we could enjoy the magnificent
mountains, fly over two high mountain passes and complete a successful flight
which gives me two more years of possibility to fly to Samedan LSZS (as the
highest airport in Europe it requires familiarization with a FI and an online
test every year).
I wanted to share with you our route and some pictures we took. They show why Switzerland is considered one of the most beautiful countries in the world. Enjoy!
We get ready at Zurich, LSZH. We have some traffic in front of us but this time we don't spot the A380 which is a daily visitor here.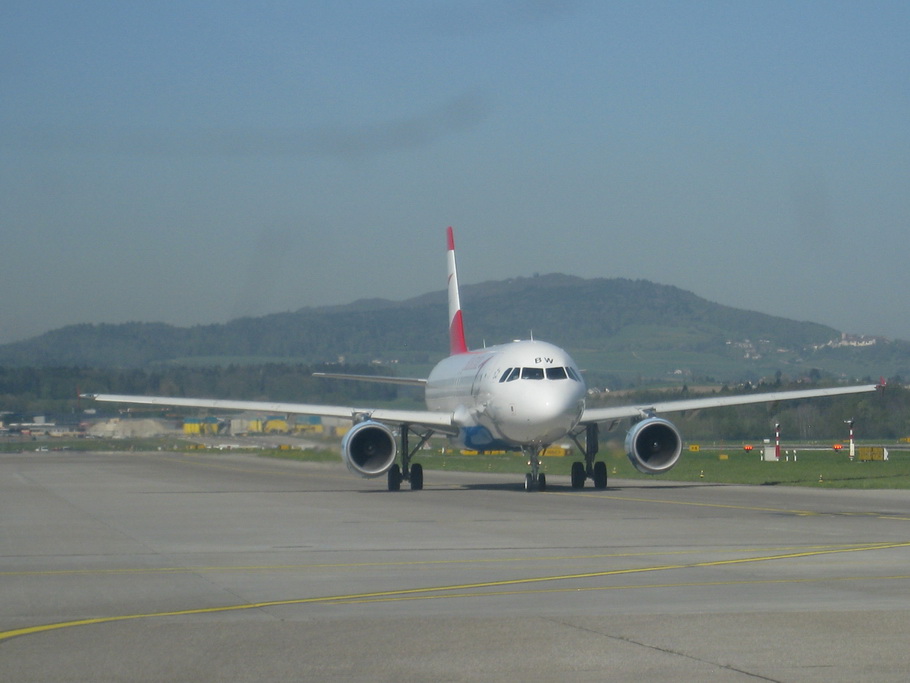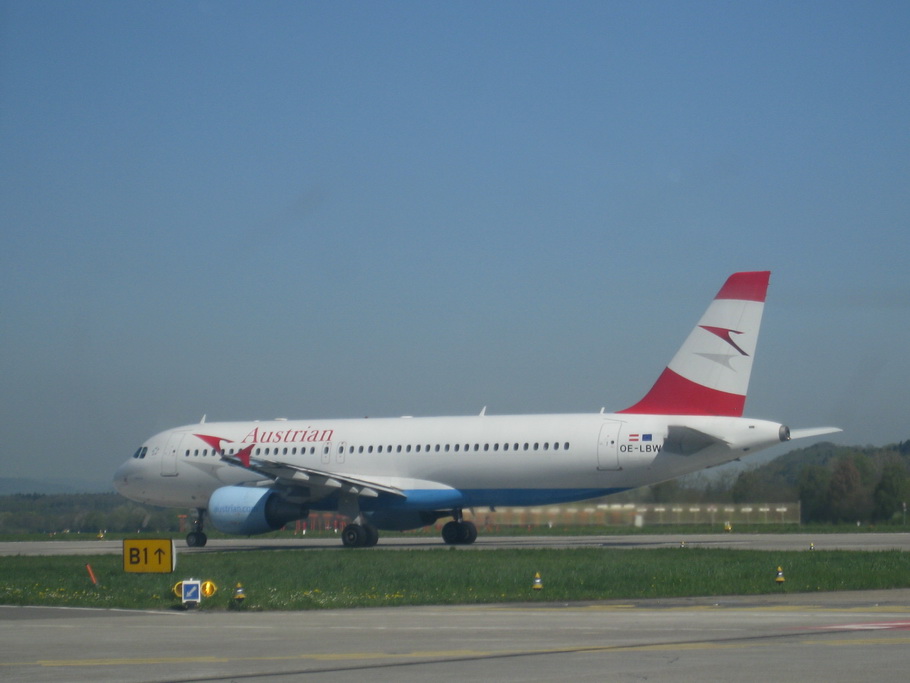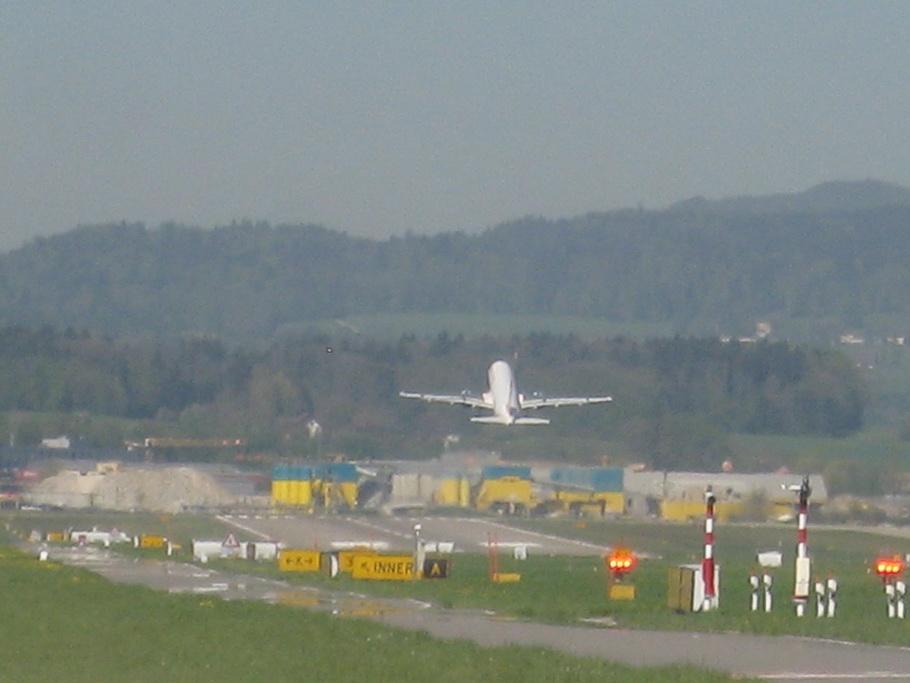 After the traffic clears up we are ready to go. We catch a nice view of the airport but as the pilot flying the takeoff I usually don't have the time to enjoy it.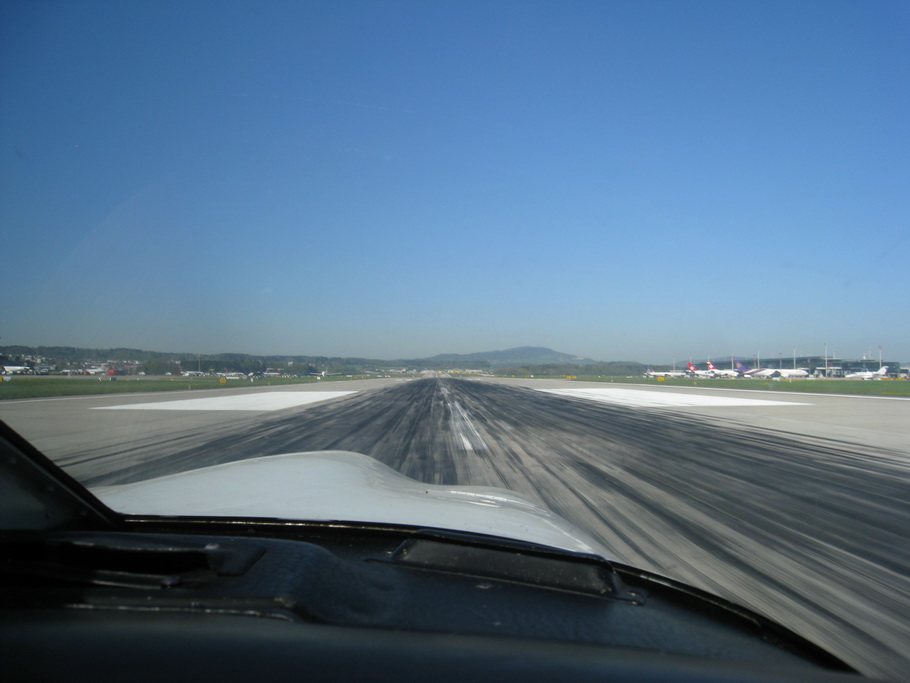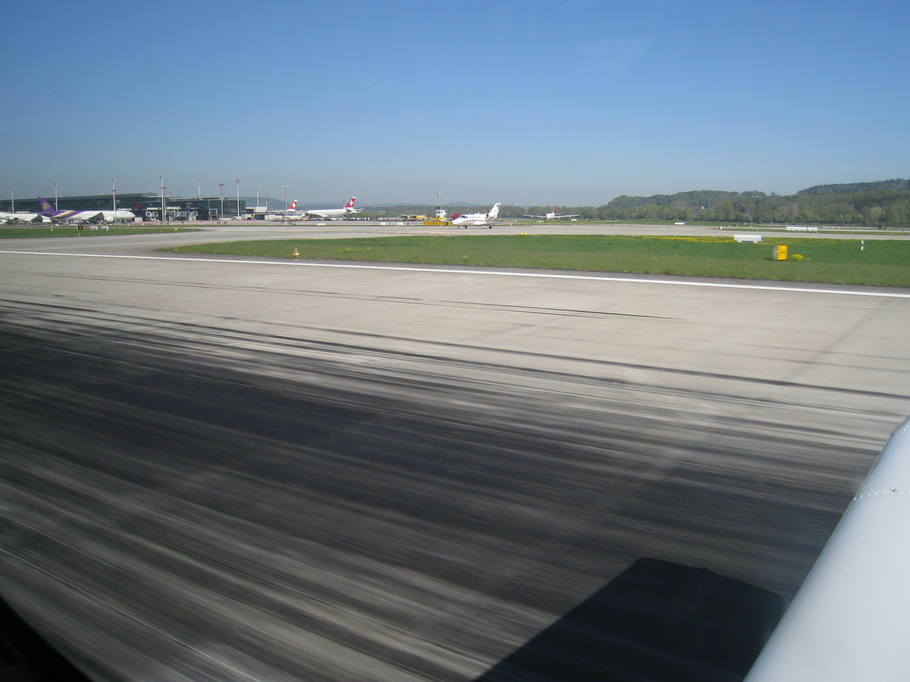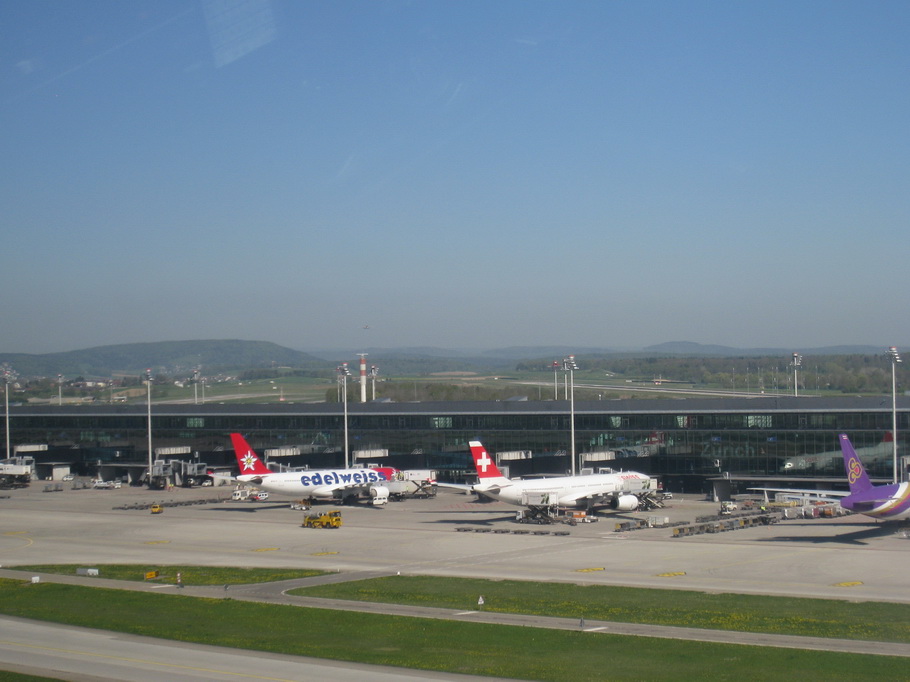 This is our route to Samedan.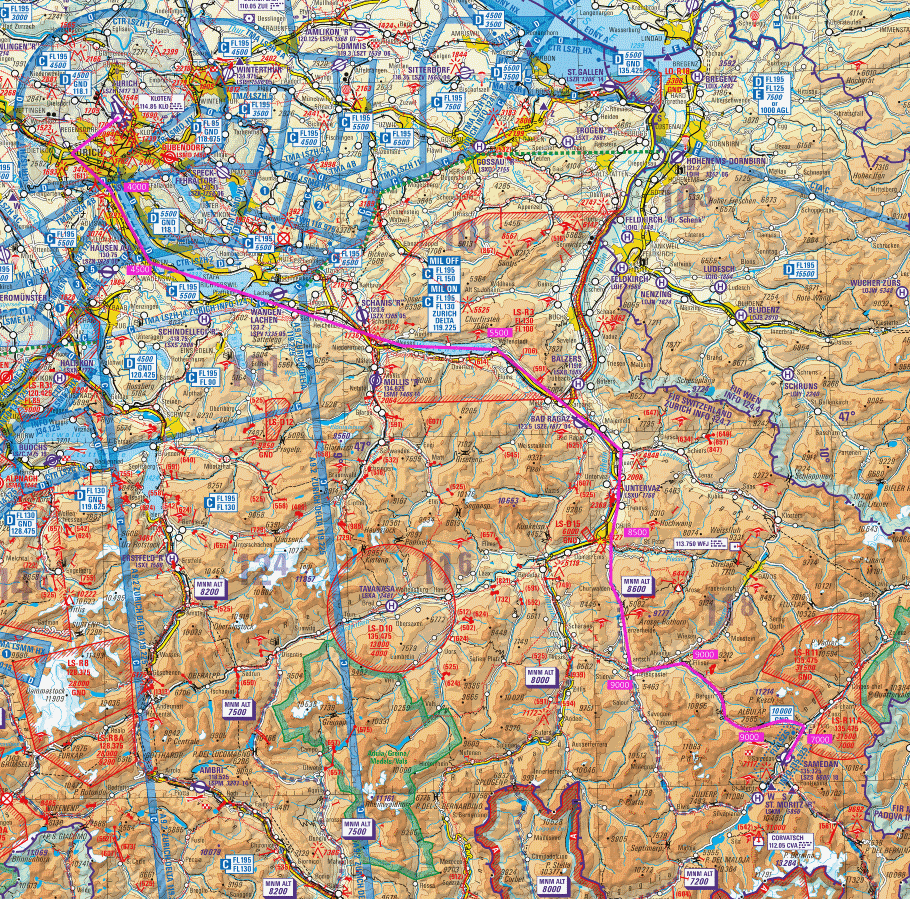 My wife acts as copilot and the lack of practical experience in the last three years is noticeable but the effect of the practice flights in the simulator are obvious.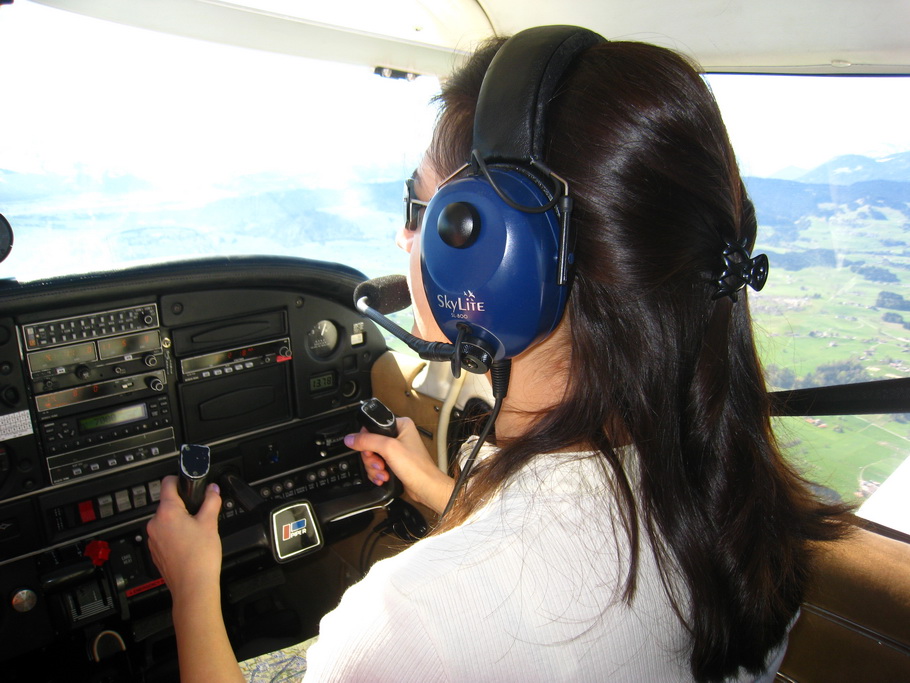 We fly abeam Sihlsee (with the small town of Einsiedeln and a famous cathedral next to it) and then close to Wangen-Lachen, a nice airport at the lake of Zurich with good food in the restaurant overlooking the lake, an attractive destination during the summer months.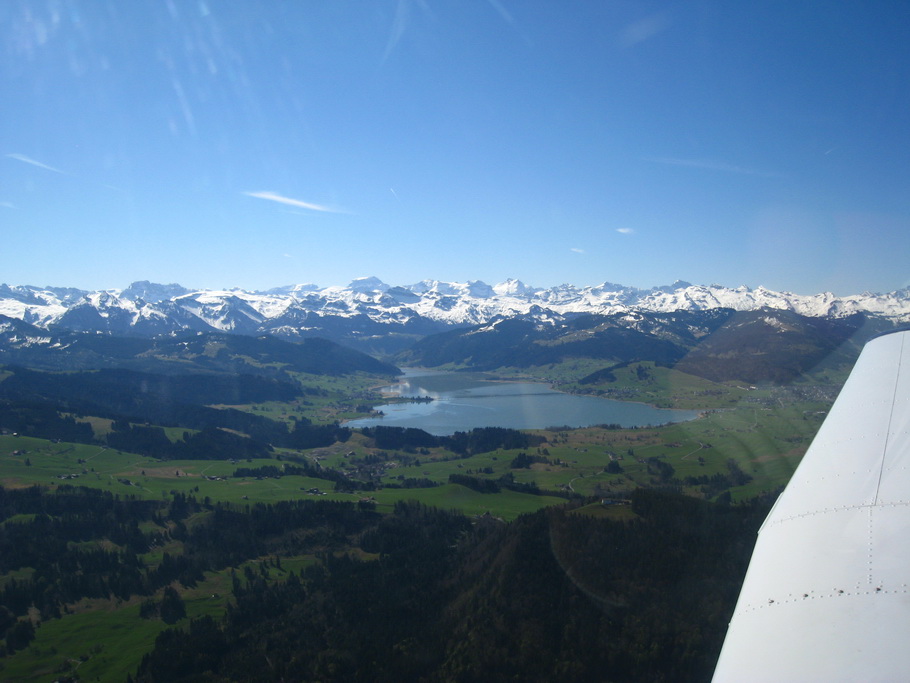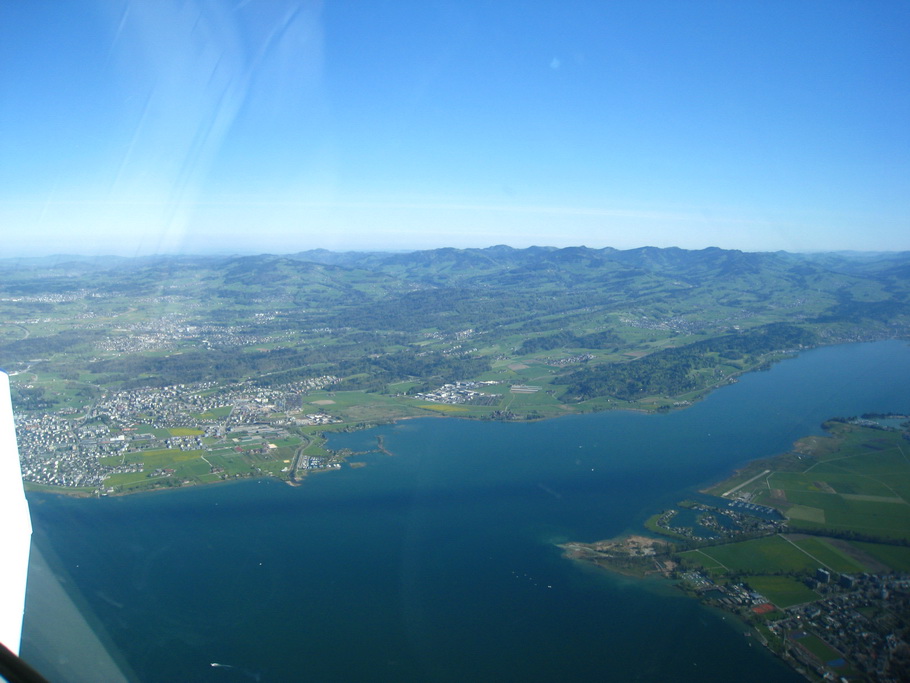 We soon approach the mountains covered with snow.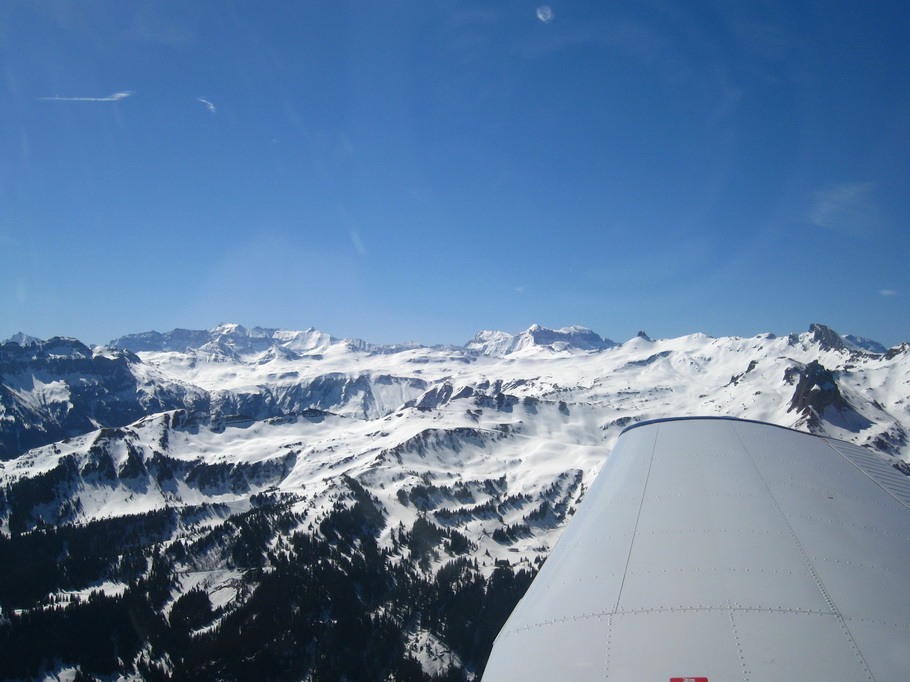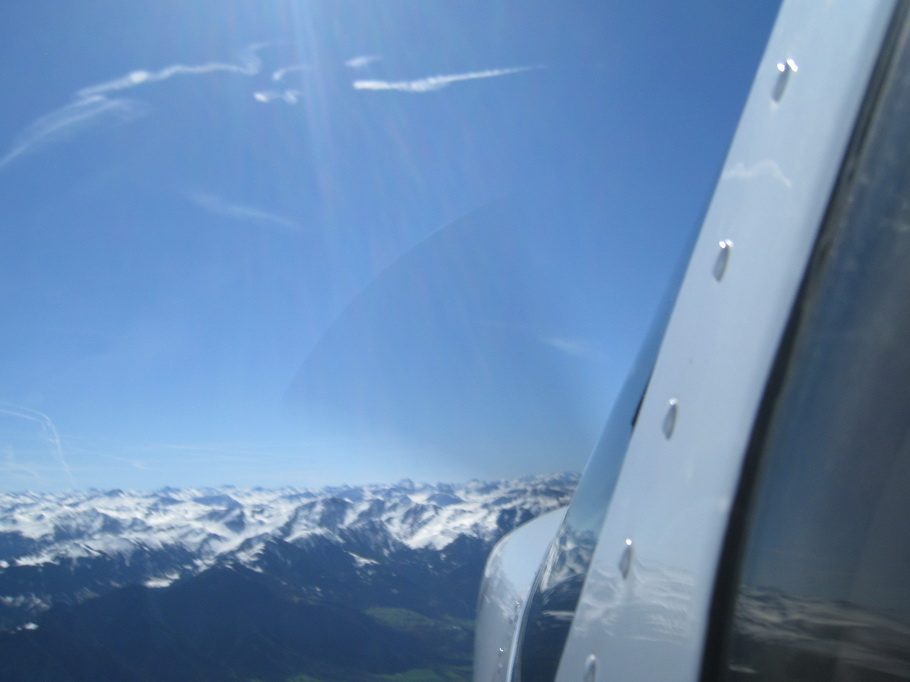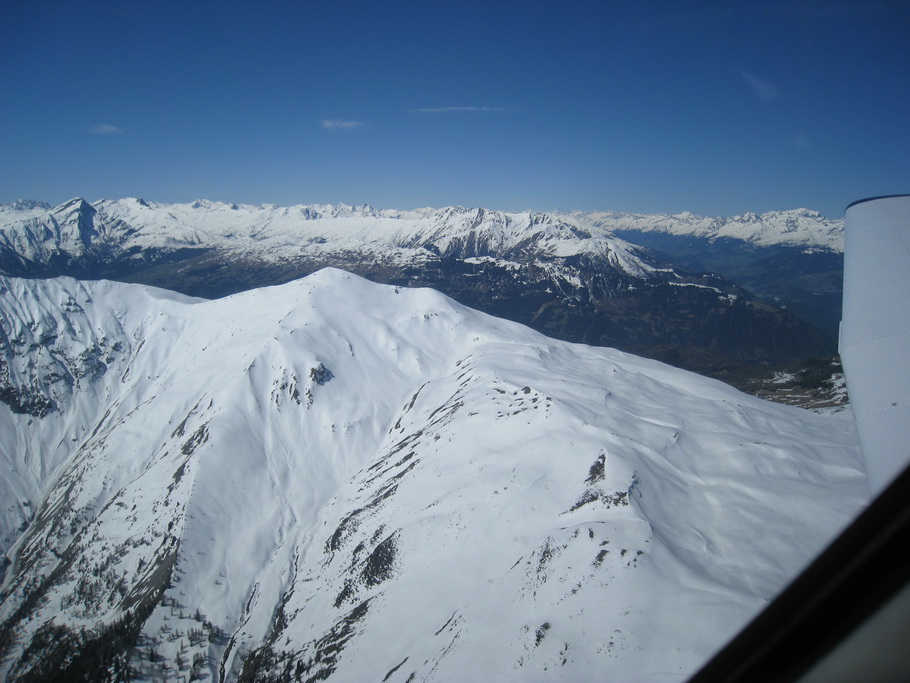 After some flying in the Alp valleys (don't forget to leave enough space to be able to turn back and always check a valley to be free of clouds before entering it) and several ski resorts like Lenzerheide we cross the mountains over Albulapass. Approaching the pass you have the feeling that there is no way ahead because you actually don't see it. It opens up just a minute before you fly over it making this a possibly scary moment for somebody without mountain flying experience.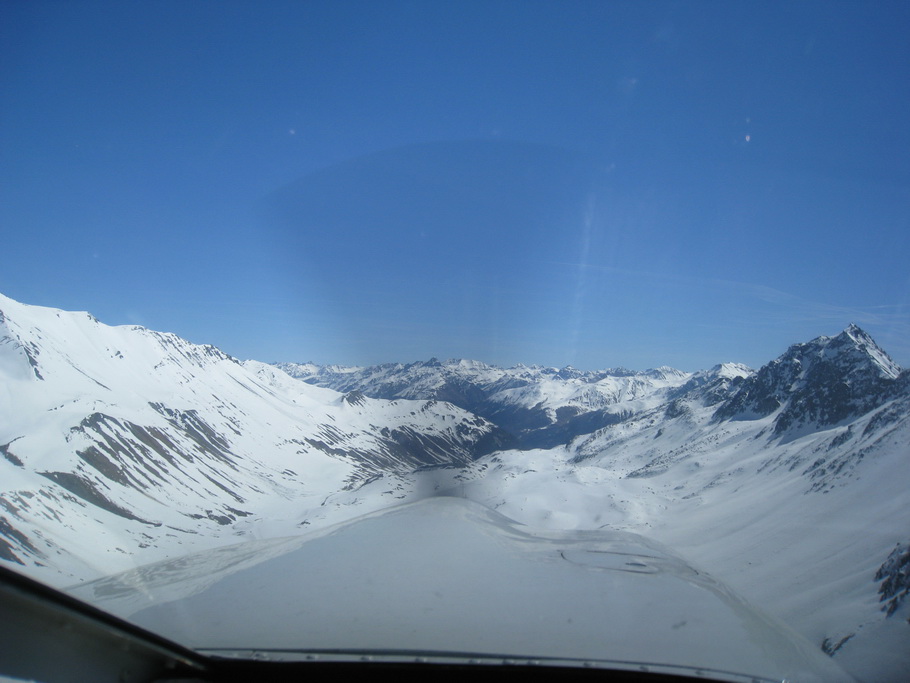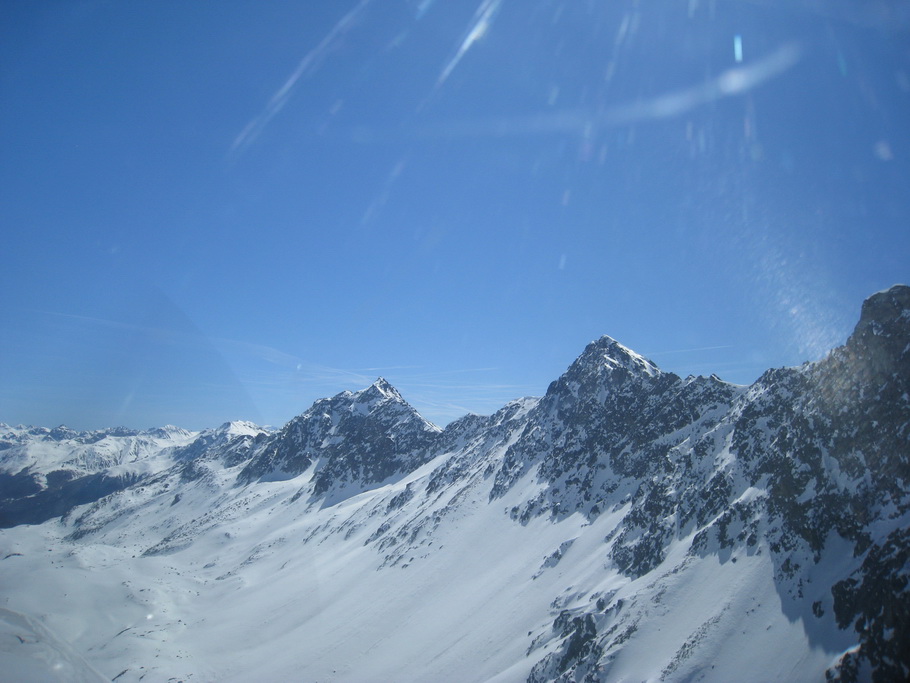 We check ATIS and at the end comes the uncommon for most airports additional info "Density altitude 6100ft". They are pretty serious about density altitude and winds here, not one or two airplanes and crews lost it because of underestimating them.
We call AFIS and get the message "Wind is calm, which runway would you prefer?" – what a service! We go for a straight in runway 21 – a quick descent with a 360 to lose altitude and we are safely on the ground. Airport altitude is 5600ft but temperature is now even higher (about 15 degrees with ISA being around 3.5) so in spite of the QNH of 1025 the density altitude has risen to 6333ft (shown on a monitor in the C office).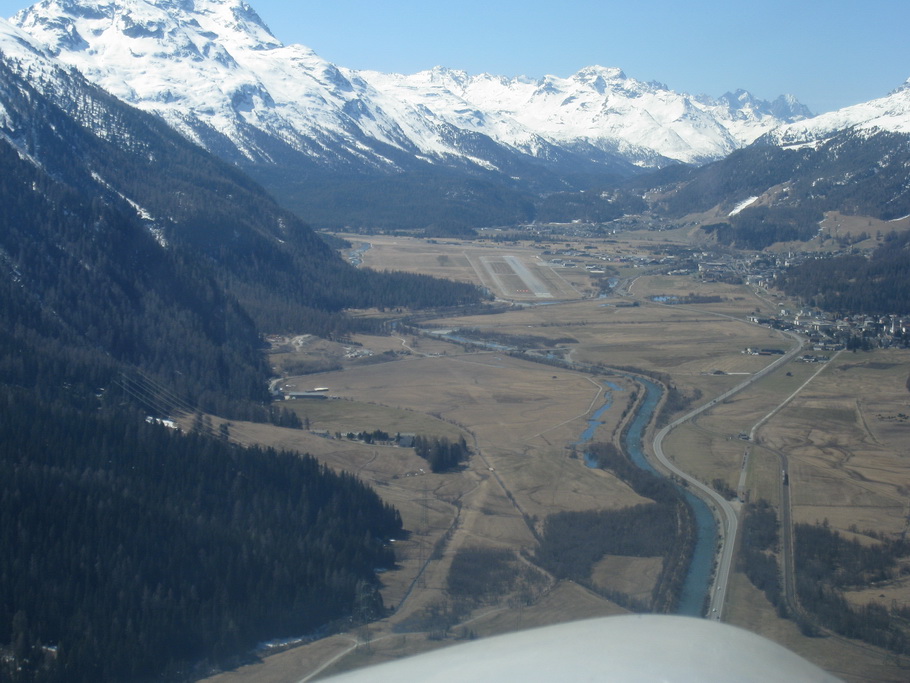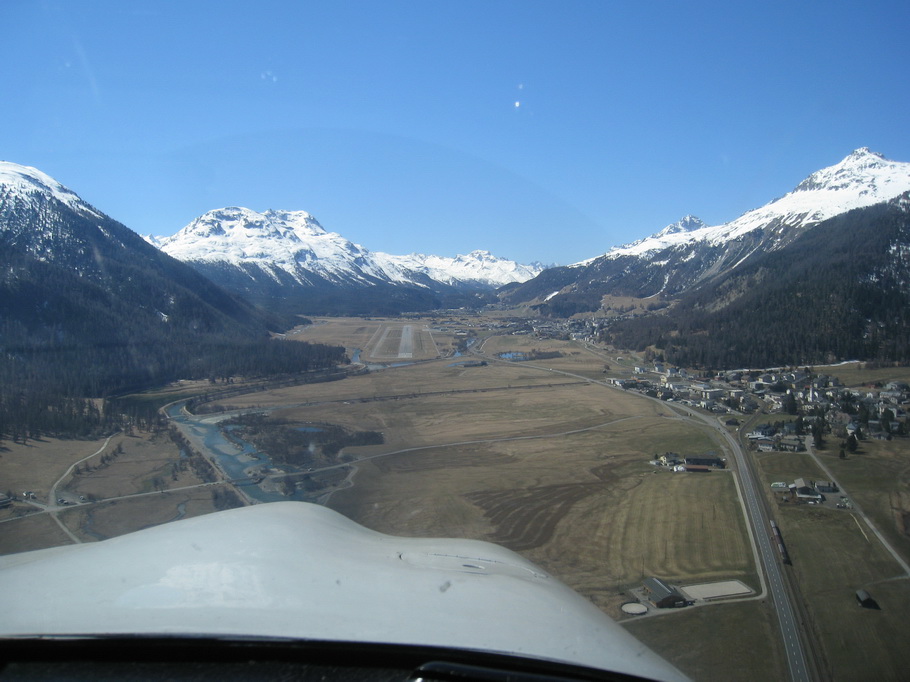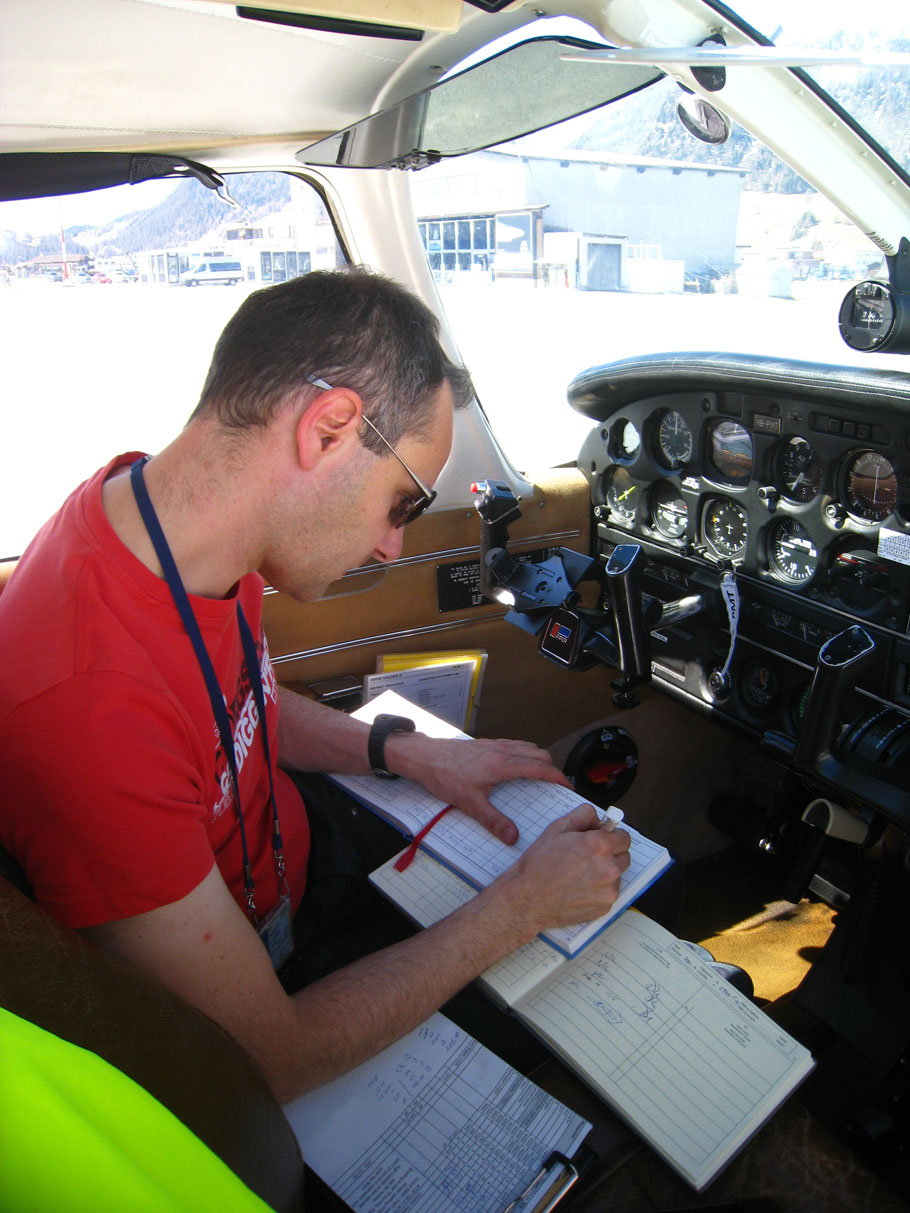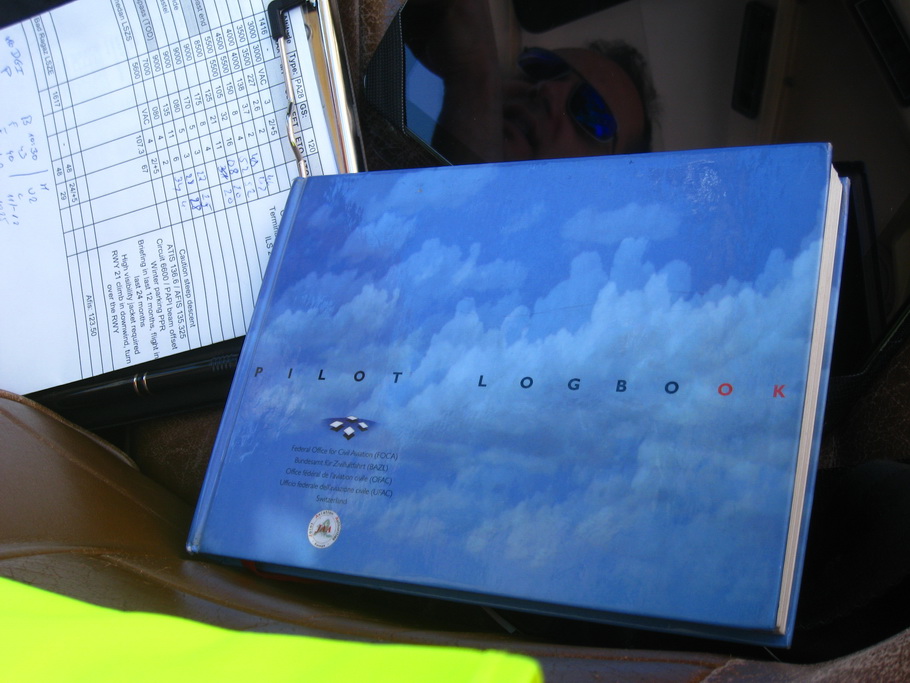 After landing it's a photo session time, of course in front of the big text
saying "Welcome to Engadin Airport, 5600ft 1707m"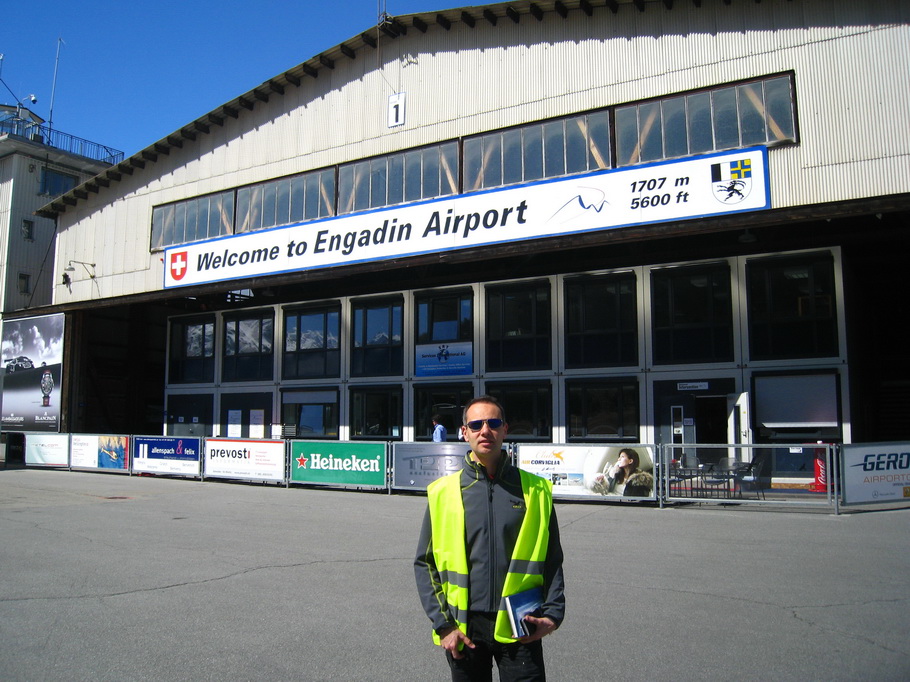 We pay the taxes and buy some Engadiner Nusstorten. They are delicious and
if you go there you should definitely get some, also for home. They are expensive
but nice things have their price (we all know that from aviation)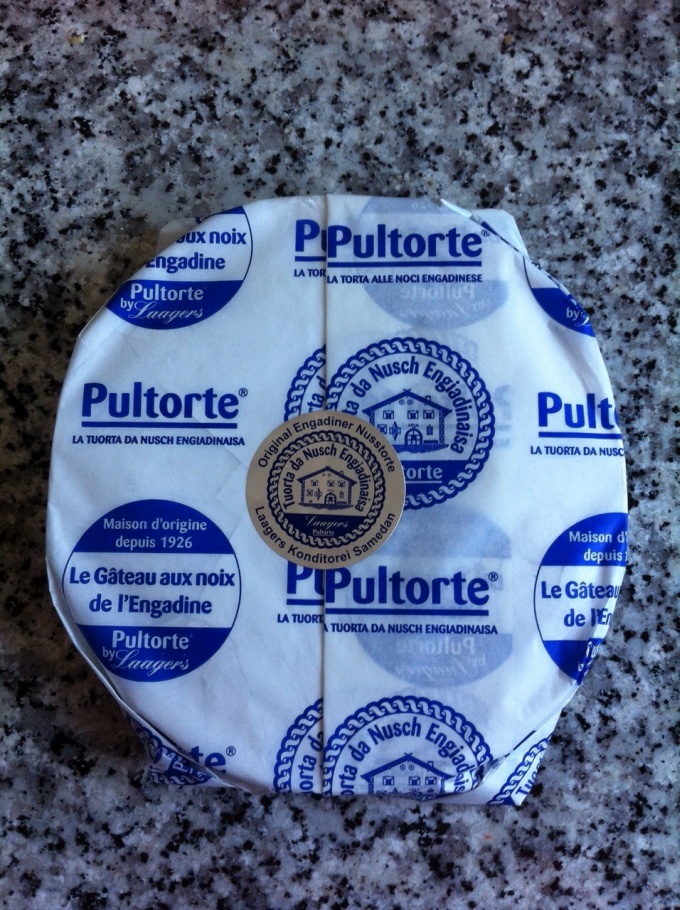 Here we get a bit of a negative experience: the taxes. On top of the 32.00
CHF landing fee and the 19.20 CHF AFIS fee we have to pay 12.80 CHF snow fee
(at 15 degrees and no snow anywhere around the airport). But the most disappointing
part is that any stay of more than 2 hours between touchdown and take off is
considered overnight winter (snow) stay and costs 80.00 CHF. We decide that
it's not worth it and this cuts our hiking plans and allows us only a pretty
short walk around the airport.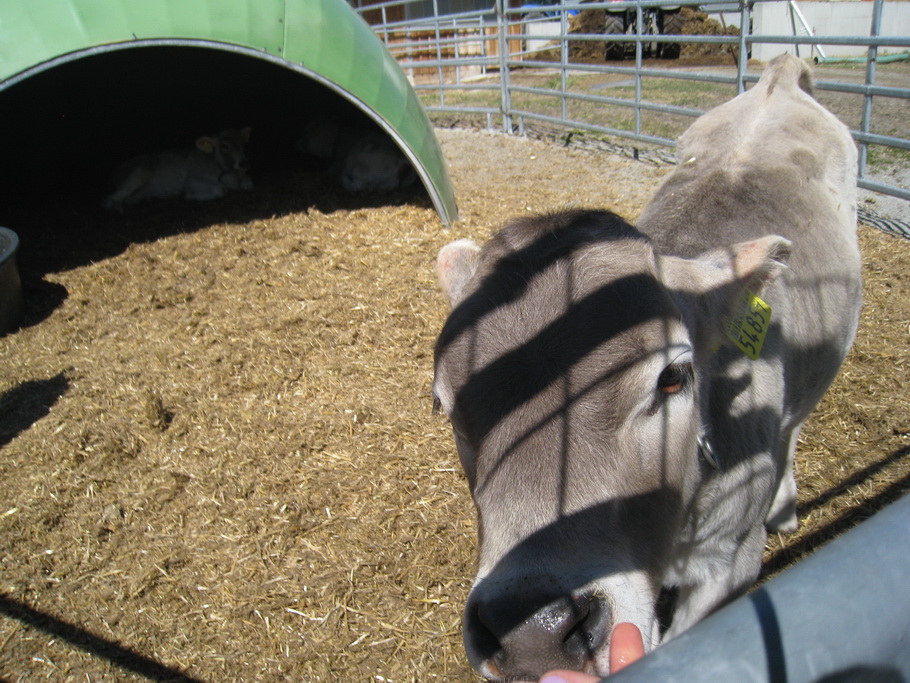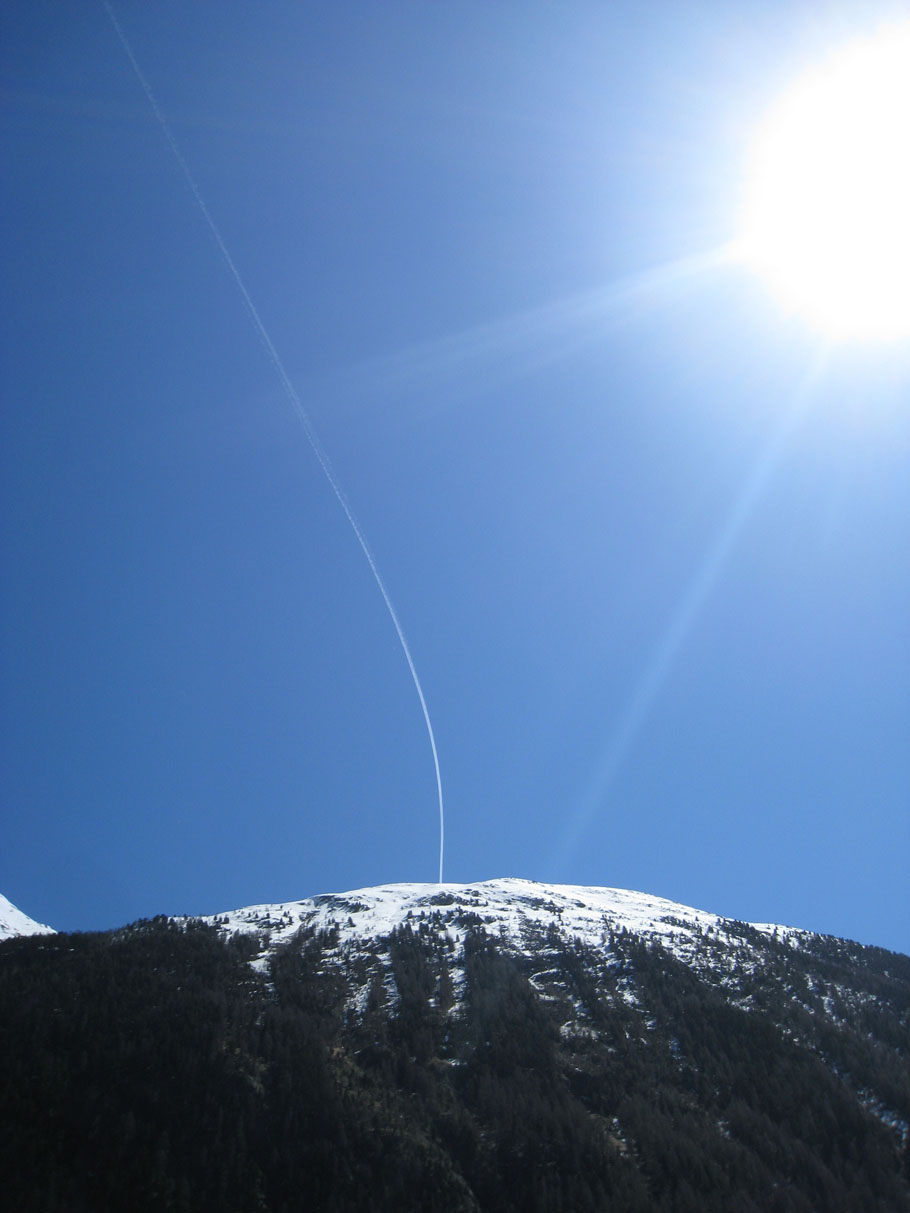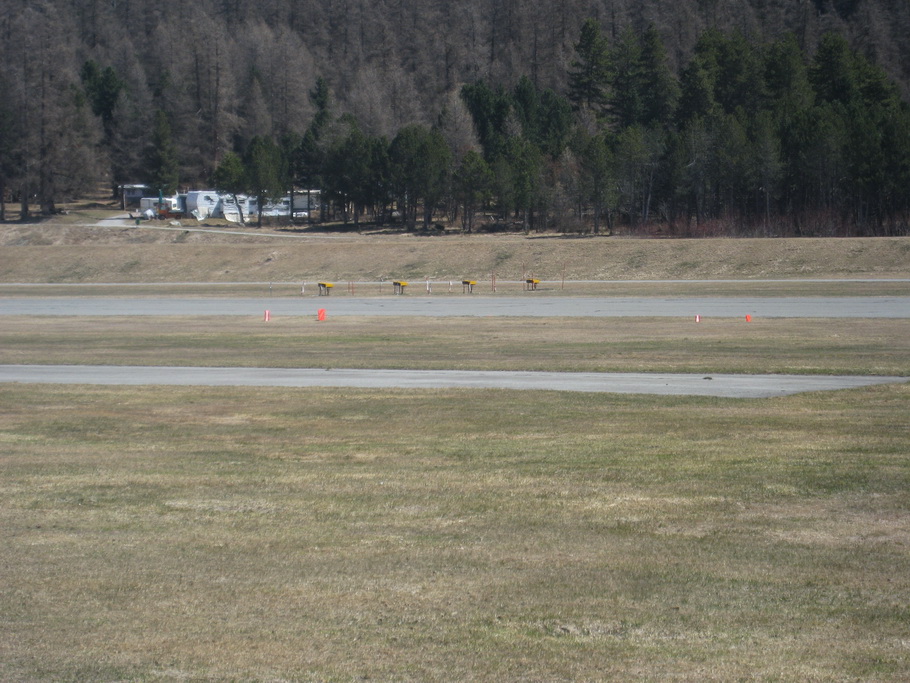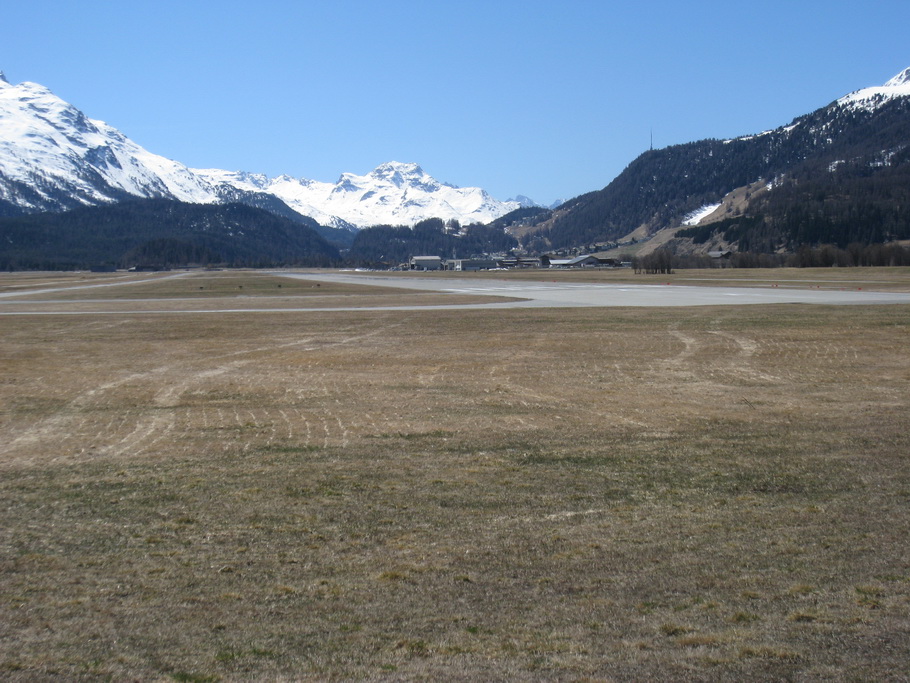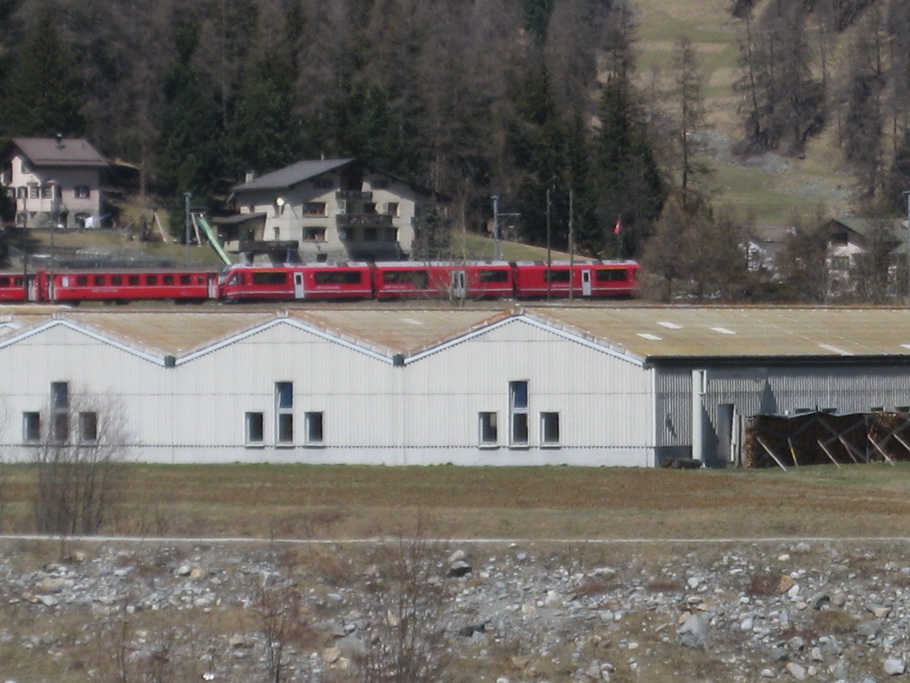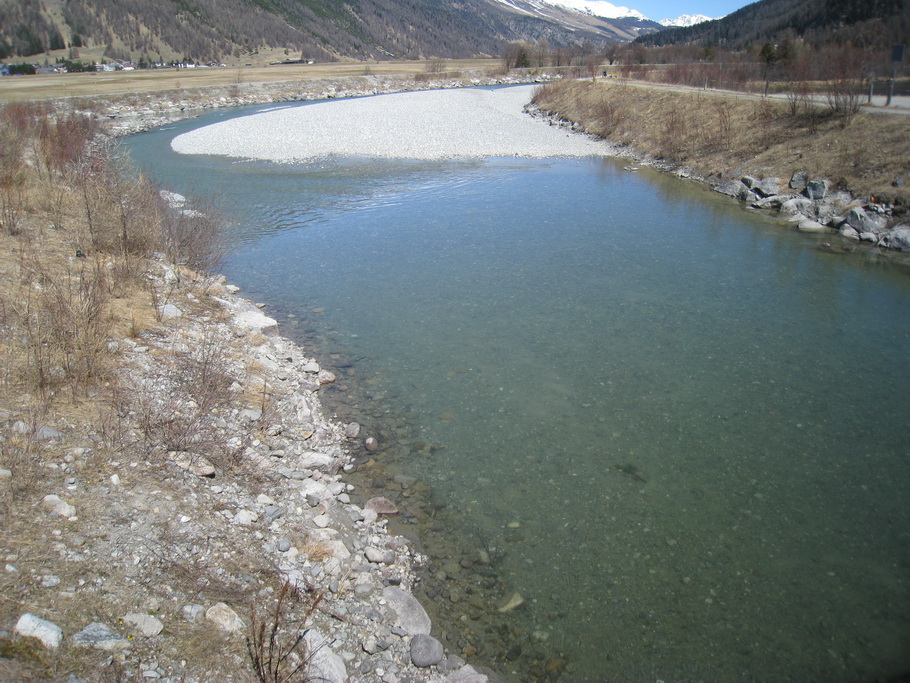 And here is our route for the flight back to Zurich: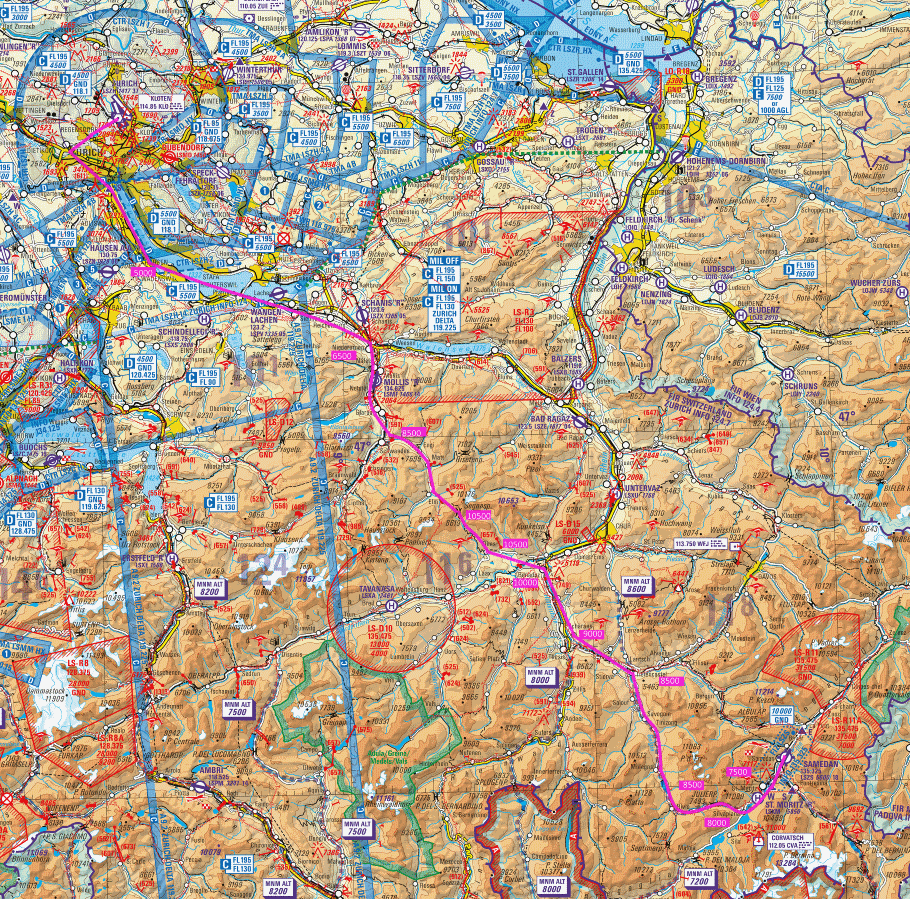 Take off in Samedan is especially tricky. High density altitude (the monitor now shows 6600 density altitude which we also hear in the ATIS), winds (we now have 14kt after only 2 hours on the ground) especially the Maloja wind and the mountains have to be considered. Mass and balance as well as performance and flying Vx are crucial and our P28A needs more than 510 meters ground roll although it's only two of us and we are not that heavy. Once in the air it struggles to gain altitude and the wind tosses it around a bit changing the speed by 10kt in a fraction of a second. But we keep it stable and climb slowly but surely. In downwind we reach 7000ft and can now head west.
We fly over St. Moritz and see the lake still partly frozen. It doesn't look like skiing is possible any more though, it's too warm.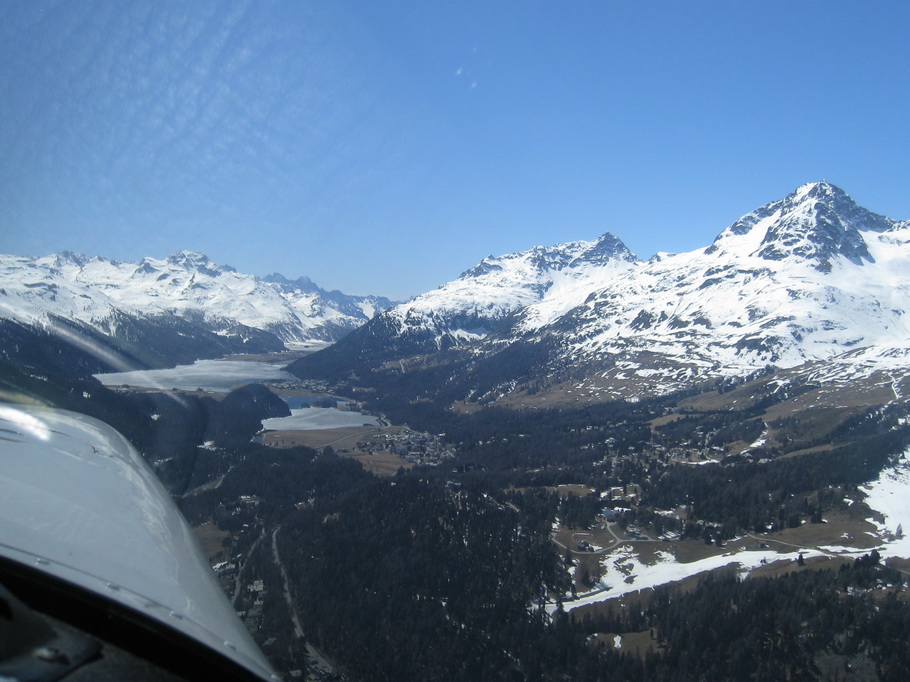 Next right and we are approaching Julierpass, still at about 8000ft. Minimum altitude on this route is 8600ft and we reach it just before the pass. It is much easier to identify and fly than Albulapass because it's wider and has an easy to see road.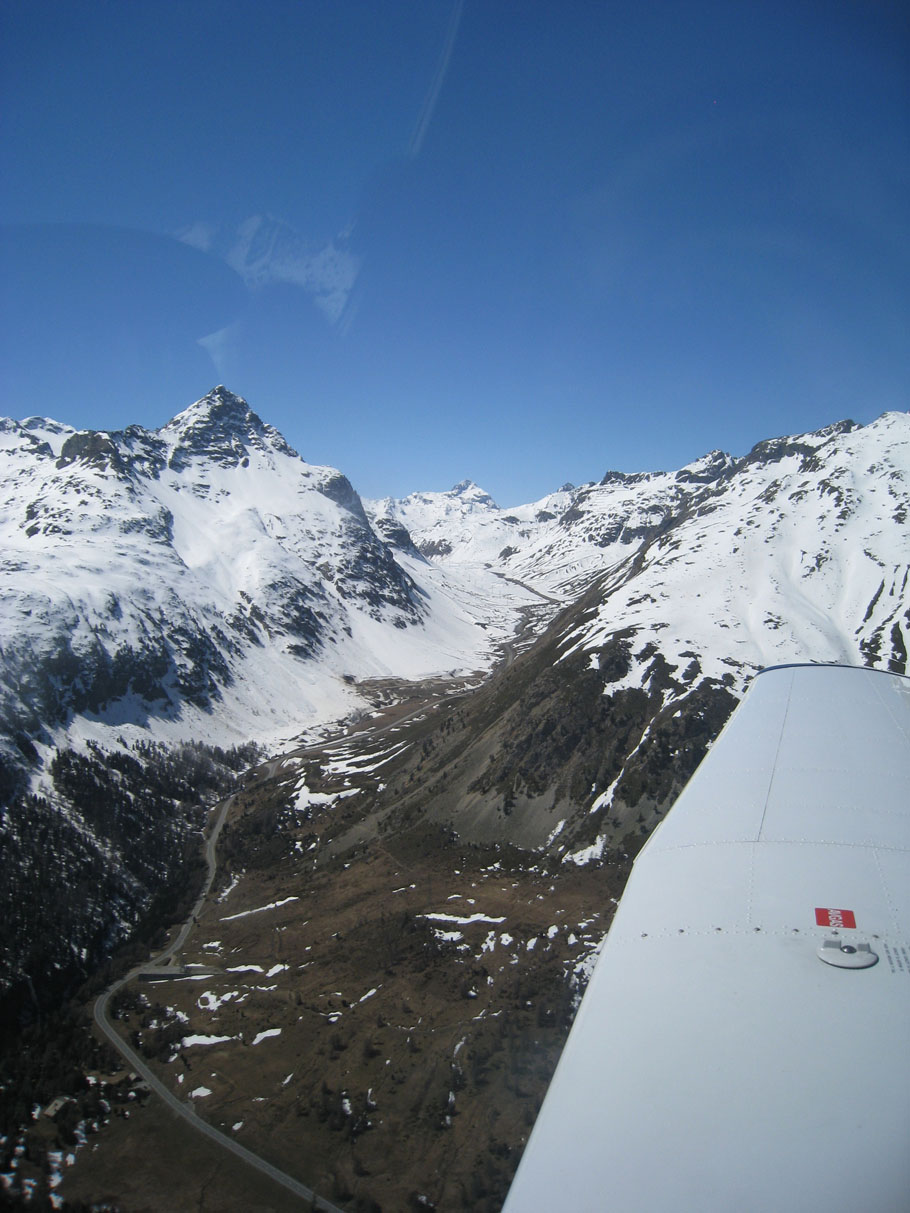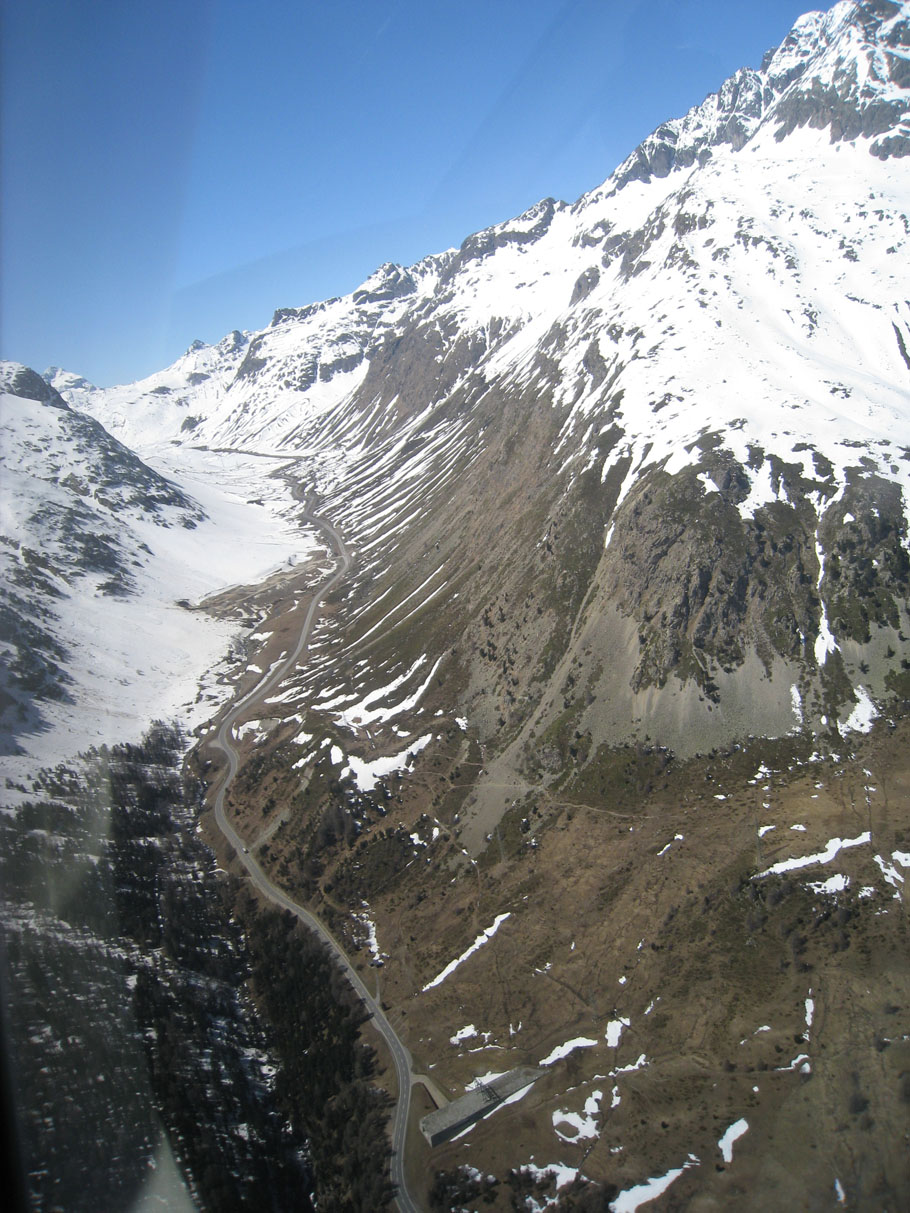 Next is another ski resort where we spent a weekend this year: Flims. The snow is now melted and skiing is not an option any more – the time of mountain biking and hiking is coming. Right after it we have to find Segnaspass – this one is pretty high and we shall legally fly at least at 9619ft. We opt for even higher: 10500ft but stay there just shortly – we don't want to give hypoxia any chance. The Swiss army is exercising in shooting just 4nm south west of Elm so we have to fly very accurately which we do without a problem.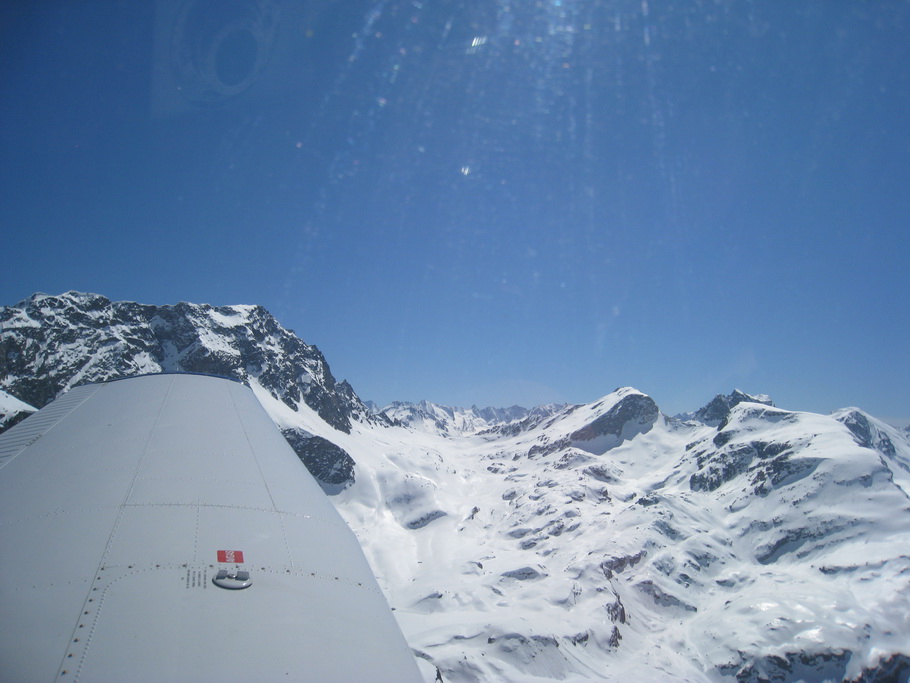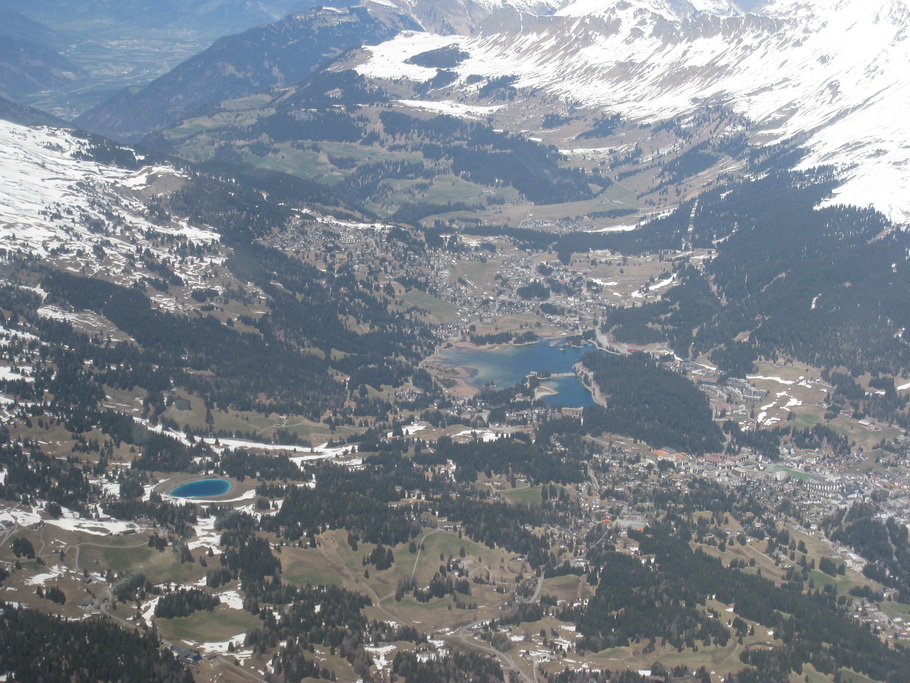 On the way home we get a beautiful view of the Alps with the tops covered in snow which looks like melted white chocolate on a cake.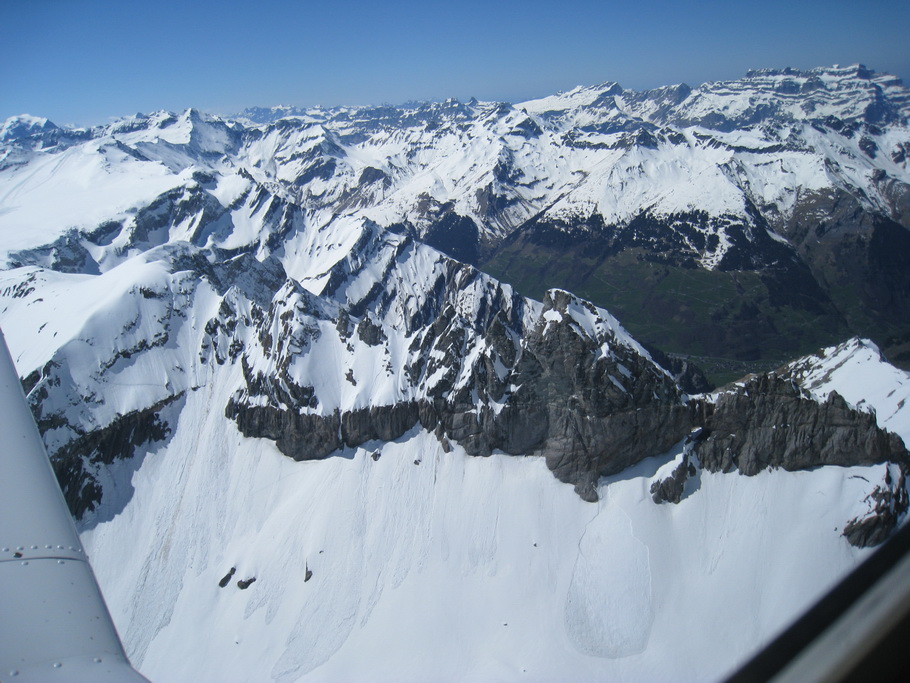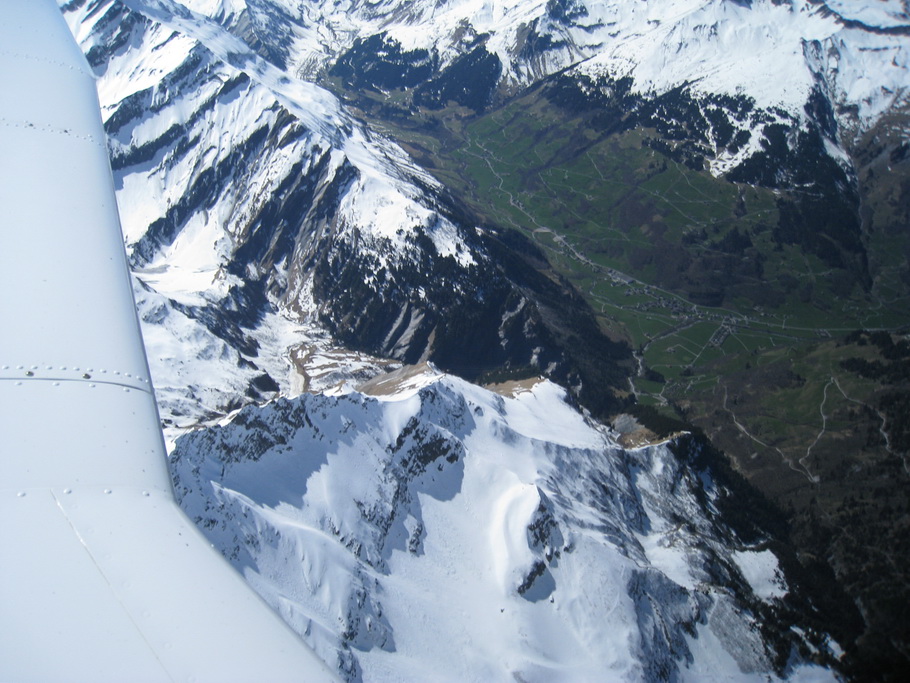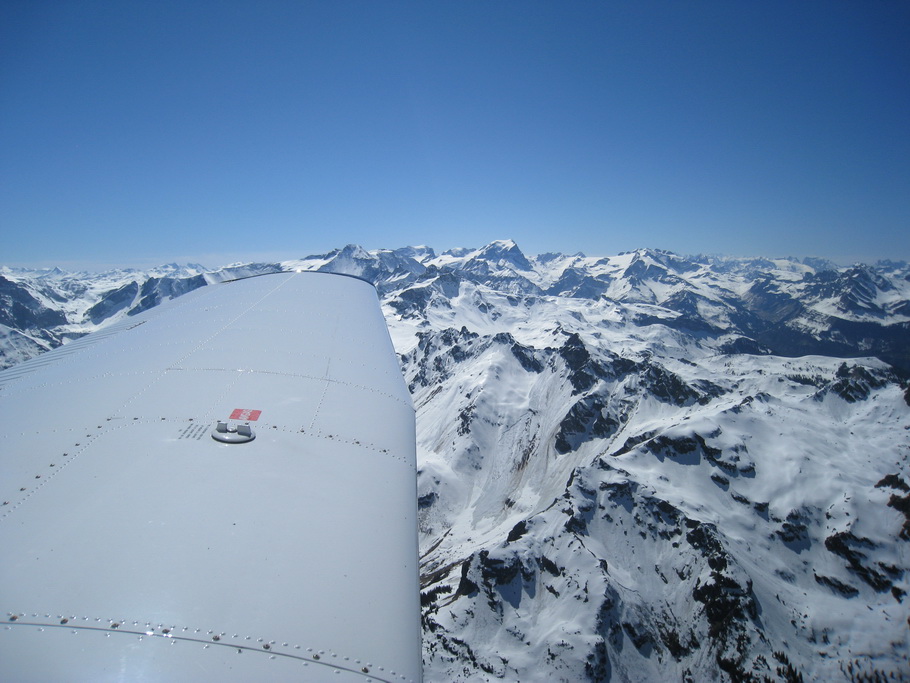 Next is Lake Zurich which leads us directly to the relocated reporting point S for landing back in LSZH.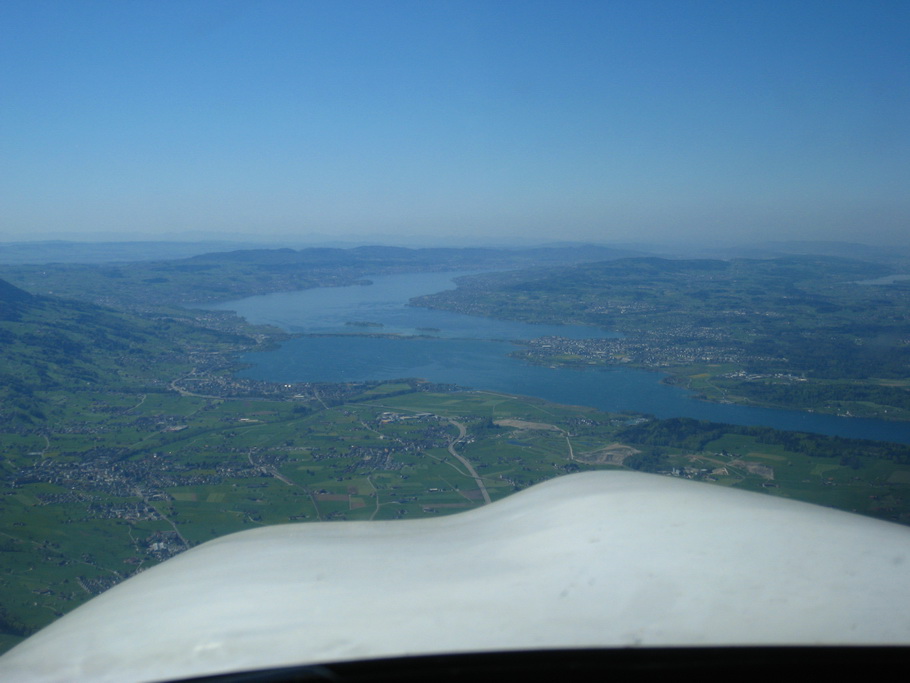 This is probably the most magnificent picture we've ever taken of the city of Zurich.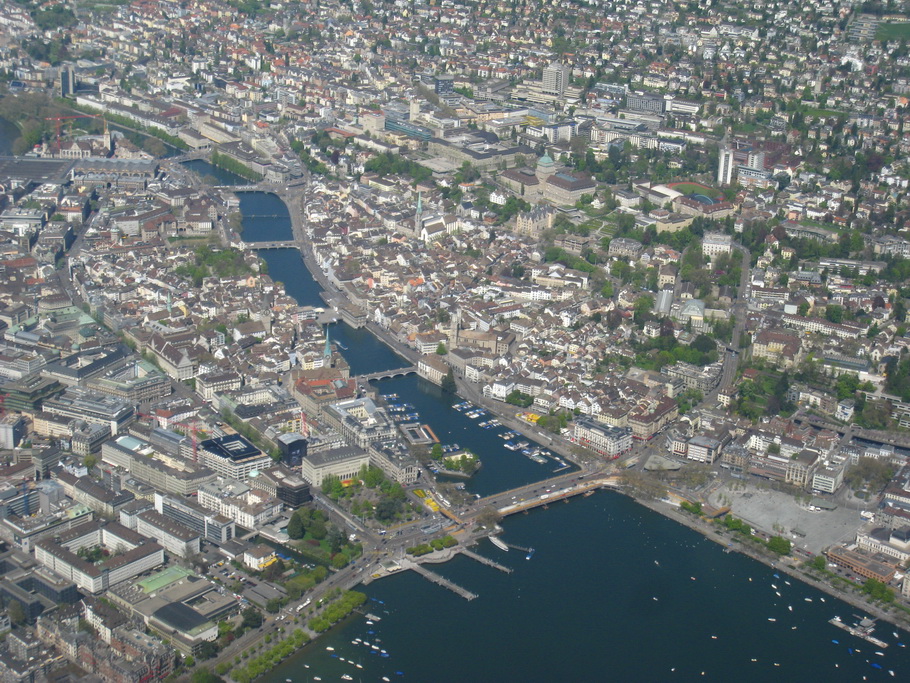 And here is the flight entry in #PilotELogbook.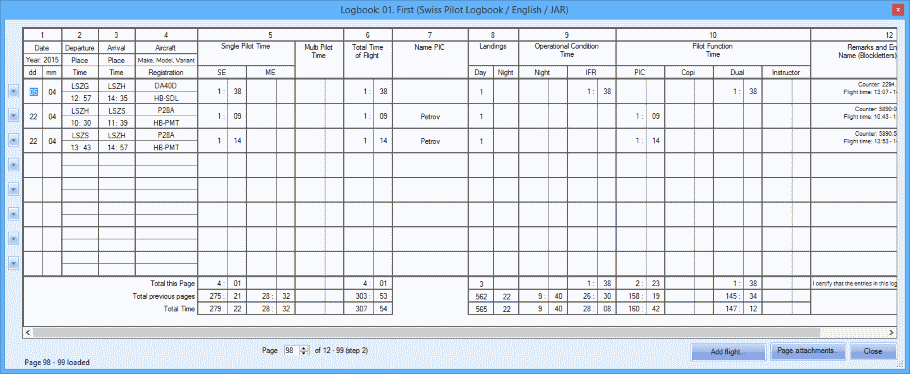 I hope you enjoyed this short article and you will consider a similar flight
for your next journey in central Europe. Happy landings!
Vladimir, 25th April 2015