A Flying Trip around the USA
I recently undertook some flying while on holidays in the USA. My holiday
wasn't a flying holiday as such, but the advantages of my PPL proved very
valuable. One of the places that I wanted to see on my travels, was the Badlands
National Park in South Dakota. Now this is a very remote part of the USA.
By way of illustration, Ireland is a pretty rural country, outside the main
cities, and it has a population on the whole island of appx 5.5 million. South
Dakota has an area of almost 2.5 times the area of the island of Ireland, but
with a population of just 775,000!! This place is remote! So the question came
of where to stay when seeing the Badlands National Park, and I decided on the
city of Lincoln in Nebraska. It was one of the few big (ish) cities near the
park. With a population of just 225,000, Lincoln isn't too big of a city for a
state capital!
My original plan was to drive from Lincoln to the Badlands National Park, but
a check of the driving times on yahoo! maps showed it would take just over 10
hours each way! And that's before I stop to get some lunch or dinner! On top of
this, Mt Rushmore and Crazy Horse memorial along with Wind Cave National park,
where just a further 1.5 hours drive. It would be a shame to be so close, and to
miss them. So basically the only way to do this by car, was to spend one very
long and boring day driving highways, then the following day doing a lot of
driving too, trying to get to see all the different sights, followed by a third
day of long boring highway driving to get back to Lincoln. Now I don't mind
driving, and generally enjoy hitting the open road when on holidays, but this
was just a little too much to be fun.
So my thoughts turned to hiring an aircraft. A little bit of research turned
up a PA28-180, a 1960's model owned by MPP aviation, which was available for
hire for just $99 per hour. With the exchange rate at an all time high of appx
$1.40 to a €1, this represented excellent value!
N8838J, a 180 horse power PA28 parked at Lincoln Airport, Nebraska: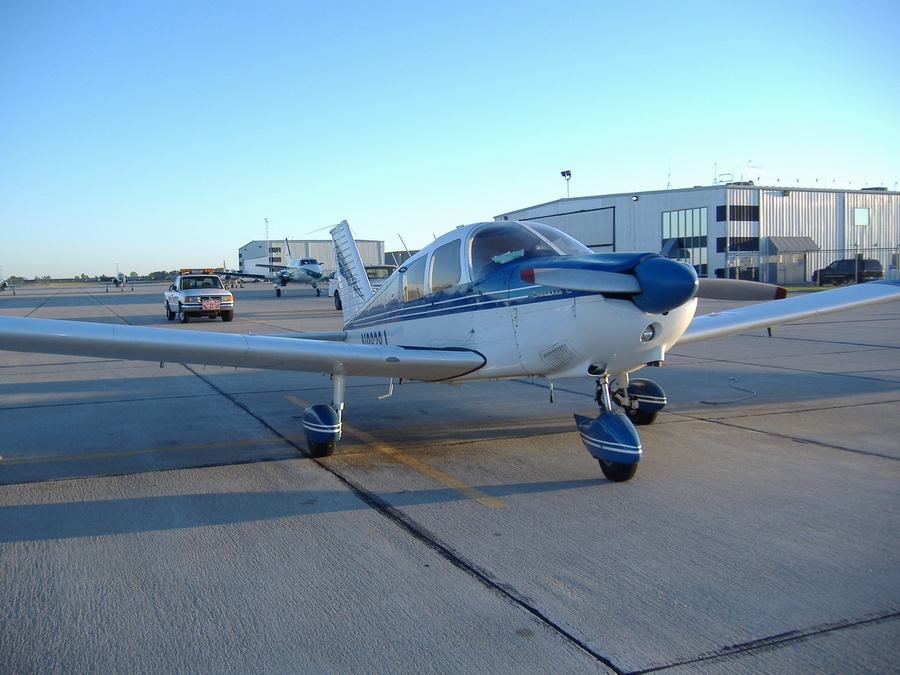 I had never flown solo in the USA before, although I did three hours with an
instructor out of Las Vegas just after getting my PPL five years earlier. So I
had to hit the books, and get up to speed on US regulations, laws, procedures
and radio telephony. Thankfully it wasn't too difficult, and I'm pretty
comfortable with the radio work, so this didn't prove too much of a difficulty.
I also had got an FAA PPL, which was based on my JAR PPL, when I last flew in
Las Vegas, so all I needed was a flight review with an instructor, which could
also serve its purpose as a club check out for hiring the aircraft.
I'd arranged to meet my instructor, Clayton, at the FBO in Lincoln on a
Friday evening, having just arrived in Lincoln the previous night. Clayton
couldn't have been a friendlier instructor! He put me at ease straight away, and
was already complimenting my handling of the aircraft before we had even reached
the runway holding point! The BFR was very straight forward. We flew out of
Lincoln's class C airspace to a local uncontrolled airport called Wahoo, did
some circuits there, before going doing some stalls, power on stalls, etc etc.
The flight had commenced in the evening time, and by the time we got back to
Lincoln it was dark, so I got to do a few night circuits too. This was a really
nice treat, as it's very rare I get to fly at night back home, due to our night
flying rules. Back on the ground Clayton spent an hour with me doing the ground
part of the flight review. He quickly realised that I had been studying up on
the rules and regulations, so quickly swapped into practical mode. Rather than
checking my knowledge of the regulations, we discussed my plans for the flight,
likely weather conditions, ATC services available to me, and the briefing
services available to me. This was very useful, and of far more benefit to me
than any grilling on rules or regulations that I knew inside out after all my
studying!
I spent Saturday sightseeing around Lincoln, and Sunday I went to see Omaha
zoo. Omaha is the largest city in Nebraska, and the former state capital. I also
got to see the Strategic Air & Space Museum, which has some very impressive
aircraft, including the SR71 Blackbird, and the Vulcan.
One particularly unusual aircraft was the McDonald Douglas XF-85 Goblin. It
was designed to act as a type of parasite escort fighter for the B29 and B36
bombers. It would be attached to the bomber, and released when needed. After
having completed its role, it would then reattach to the bomber. However testing
shows that there were severe problems when it came to reattaching, and the
program was eventually abandoned.
When Monday morning arrived, I checked the weather using a combination of
1800-WX Brief, the internet and PocketFMS. I had already transferred my route to
my GPS, PocketFMS on my PDA, and the NOTAMs checked, so I made my way to the
airport. The aircraft was sitting waiting for me on the apron, so I loaded my
baggage onboard, did my walk around, set myself up, and started up PocketFMS.
The weather was indeed perfect, which perfectly clear skies, and of visibility
of about 50 miles, although it was a bit breezy!
I was in the air at 8:15am, and starting my climb to 8,500ft. Shortly after
take off, I was given 'own nav to Wall Municipal' and handed over to center for
flight following. This was a very unusual flight for me! It was the first time
ever that I took off from an airport, pointed my aircraft in the direction I
wanted to go, and held that heading and altitude without change for the rest of
my two and a half hour flight! No turns or altitude changes to avoid airspace,
nor to follow ATC instructions, just straight on, until I get to where I wanted
to go!
N8838J was well equipped, and unlike most rentals that I've come across,
everything worked: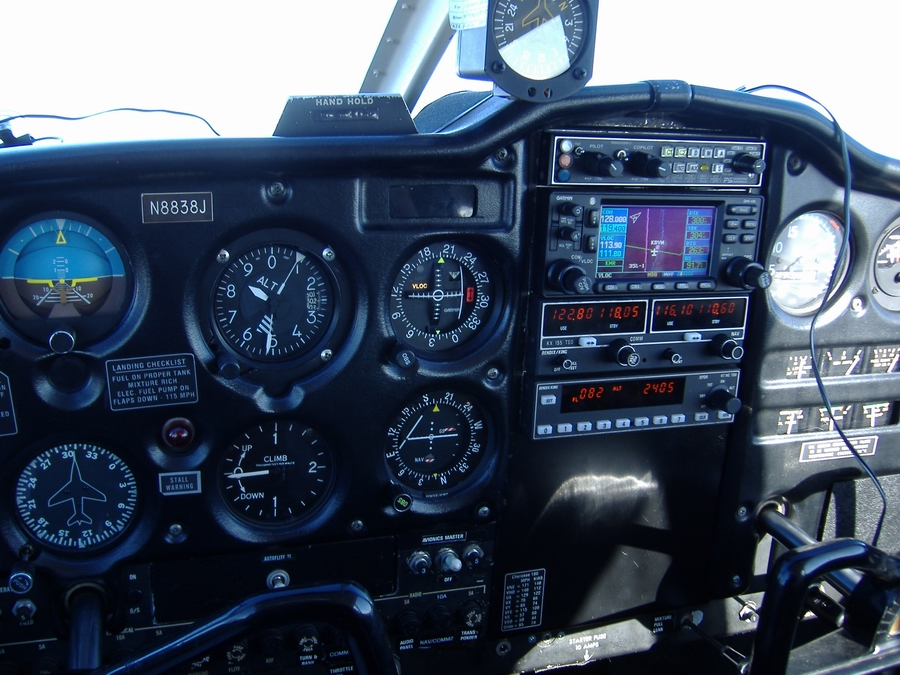 Looking at Nebraska from the air really showed me how rural this state was. I
already told you about South Dakota, and Nebraska wasn't much more populated
than South Dakota! Nebraska has a land area which is just fractionally bigger
than South Dakota, and a total population of just 1.7 million. This is very easy
to see from the air. Typically there would be a small town, and then nothing but
crop fields for as far as the eye could see, which on this day, was about fifty
miles in all directions. There would be maybe one or two other little towns off
near the horizon, but nothing much between them! There wasn't a lot by way of
landmarks, so I was very glad to have my trusty PocketFMS GPS with me, and it
worked flawlessly. In fairness, navigation across Nebraska wasn't hard with such
excellent visibility. As the towns were so widely spaced, it would have been
very had to misidentify one, and as there was very little airspace to worry
about, it left loads of time free to keep track of the navigation.
As time moved on, and I started to leave Nebraska and enter South Dakota, it
was very much a case of leaving civilisation. The towns got smaller and smaller,
and the amount of farmed land got less and less, until eventually there were no
town, no buildings, almost no signs of life anywhere, and the land became so
rugged and barren that I doubt anyone would have ever been able to farm it.
About 25 miles out from Wall Municipal airport, I commenced my descent. Wall
is a very small pioneering town on the edge of the Badlands National Park. The
airport is unattended, and there are no car hire facilities in the town.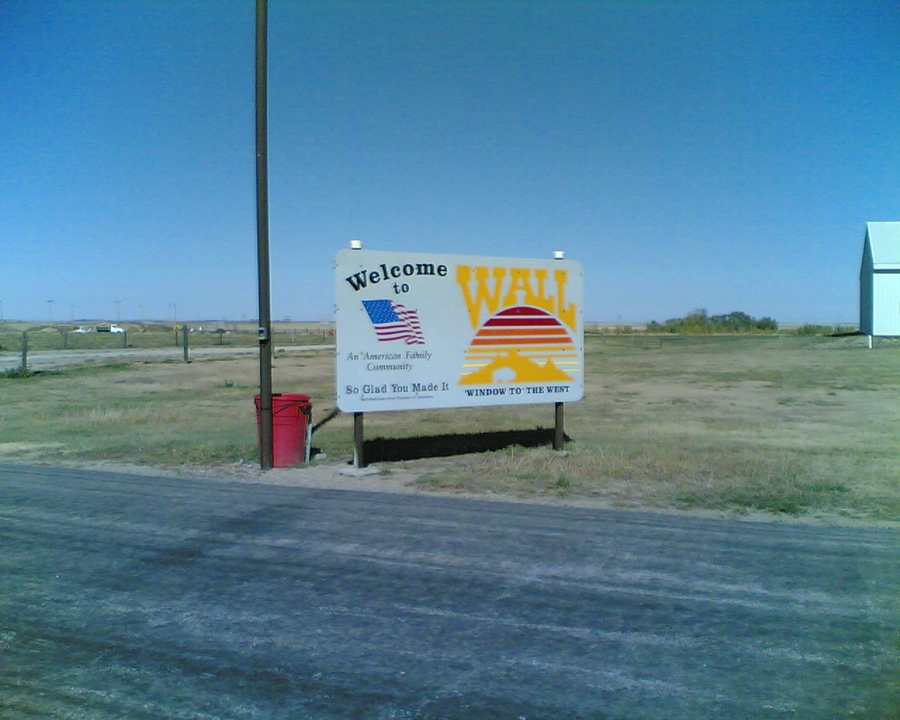 Wall itself was just a short street of shops & businesses. It could have
been lifted straight out of a Western movie and at first I wondered if that was
purposely for the tourist trade. However there didn't seem to be many tourists,
and most people around town seemed to be locals: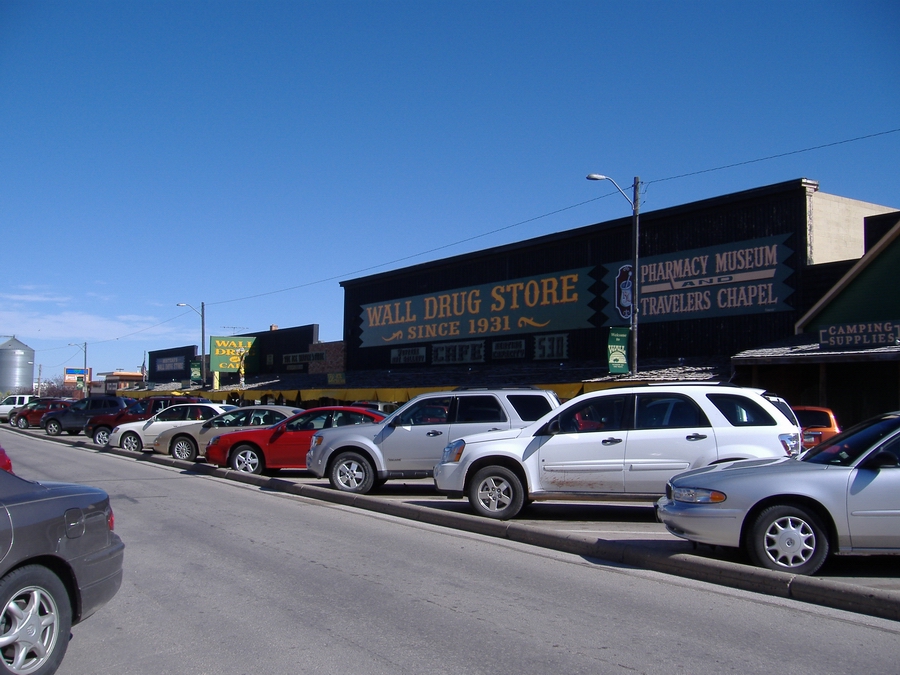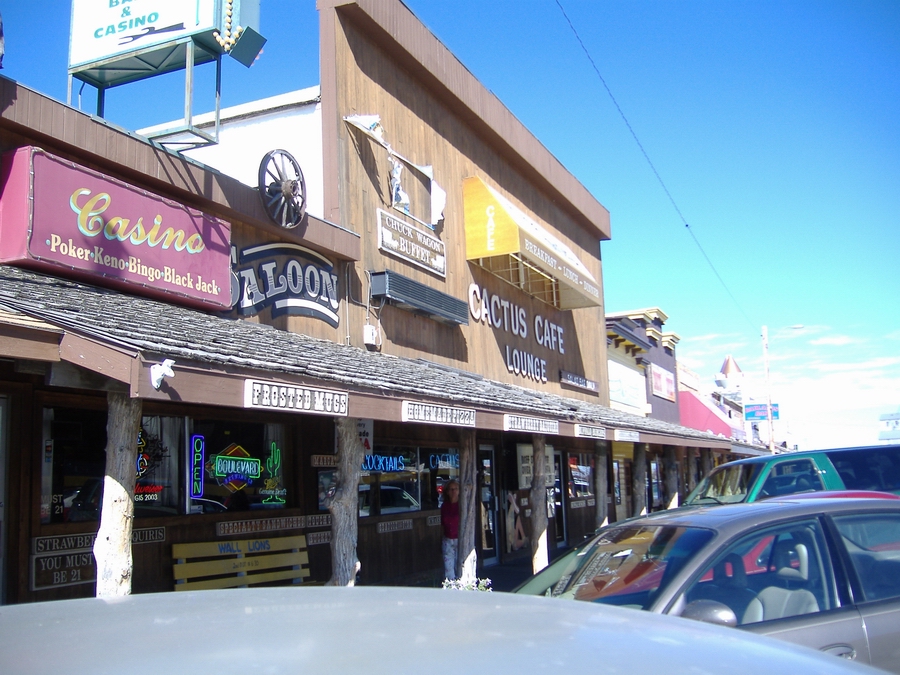 I had spoken to the airport owner on the phone earlier in the week, and he
said that he could organise me a car for a couple of hours to drive the Badlands
loop, and would sell me a small quantity of avgas. True to his word, he met me
on arrival, and marshalled me to his hanger where he sold me enough avgas to
comfortably make my next leg. It turns out that this man is also the Mayor of
the town of Wall! Well, they couldn't have had a friendlier Mayor! He gave me a
souvenir pen, and apologised that he wasn't able to organise me a pickup truck
as he hoped, but instead he had a Volkswagen Beetle!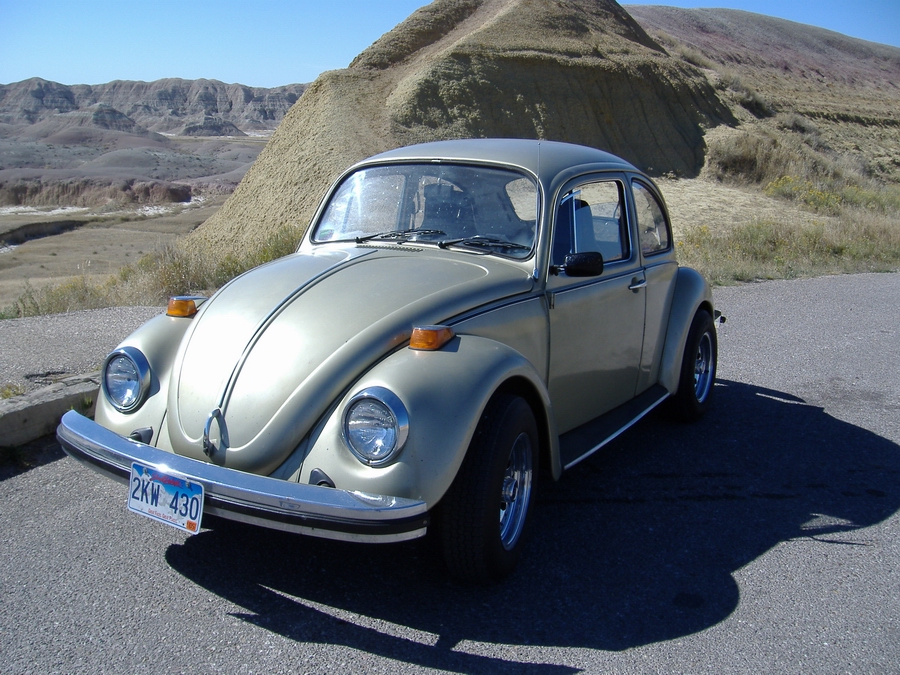 It was my first time driving a manual transmission left hand drive car, but
this didn't prove difficult at all. It was very hot out, and air conditioning
would have been nice, but all in all, I wasn't complaining! I was delighted to
have been able to get a car to drive the Badlands loop, and this car had
character! The dash board was placarded "VNE 65mph"!
The drive around the Badlands loop takes you through the heart of the
national park, and takes about two hours to complete. The scenery is absolutely
stunning, and the landscape is incredibly rugged. I've seen it described as
lunar, eerie and evil, and it's hard to argue with any of those descriptions,
although I would just describe it as strange. It's unlike anywhere else I've
seen before, and it was well worth the trip to see.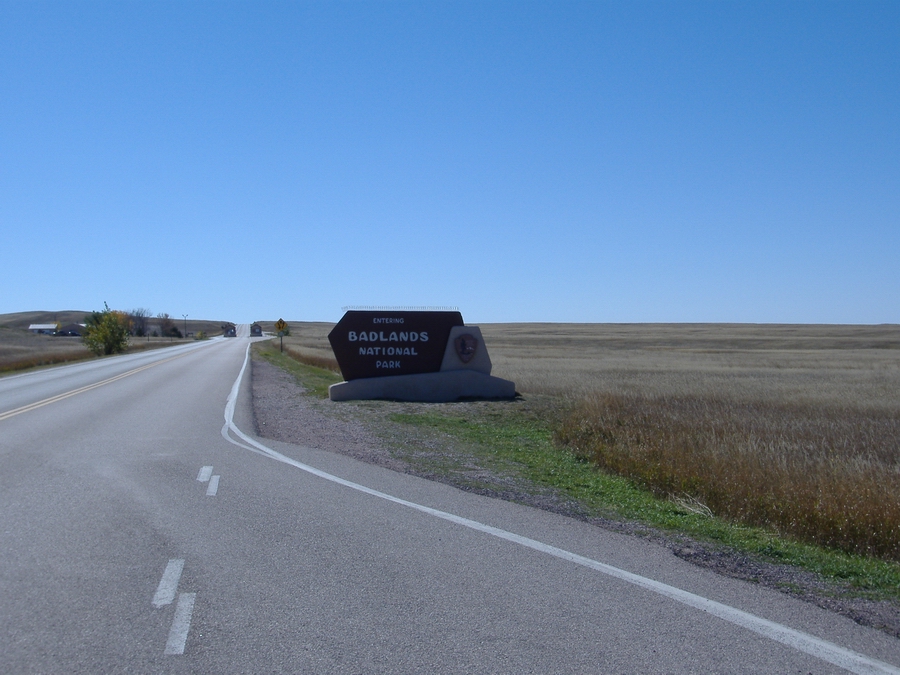 It's not hard to see why it's called Bad Lands. The landscape is quite
striking with all its little peaks. The lines in the rocks/hills are
quite
evident and the colours quite striking, with dull red/brown mixed in
with vivid red and striking yellow. There were plenty of warning signs advising
about rattle snakes, so I didn't venture too far from the beaten track. The
Badlands Loop has plenty of places to stop and take a nice photo: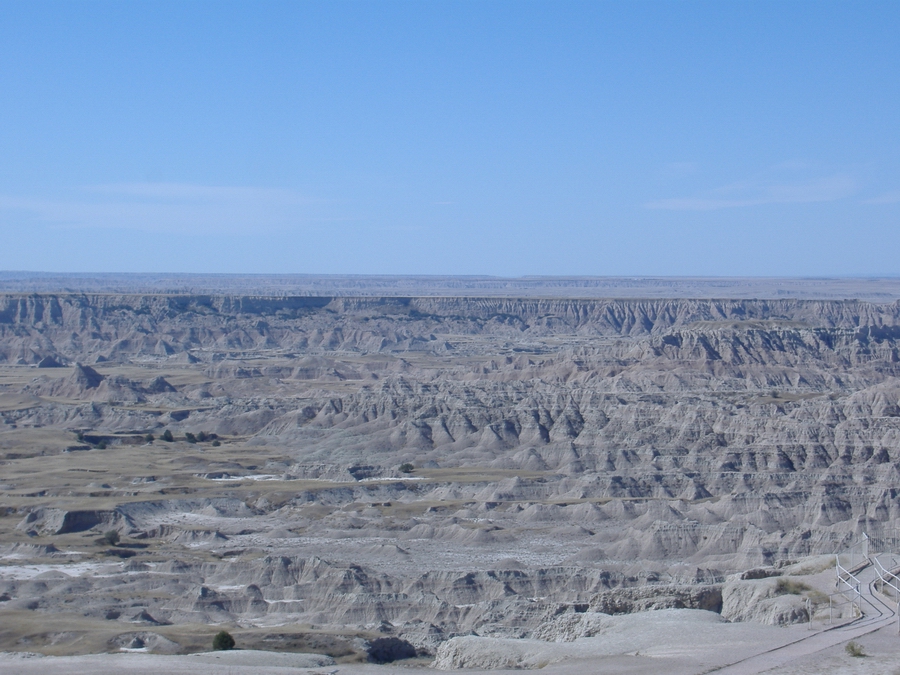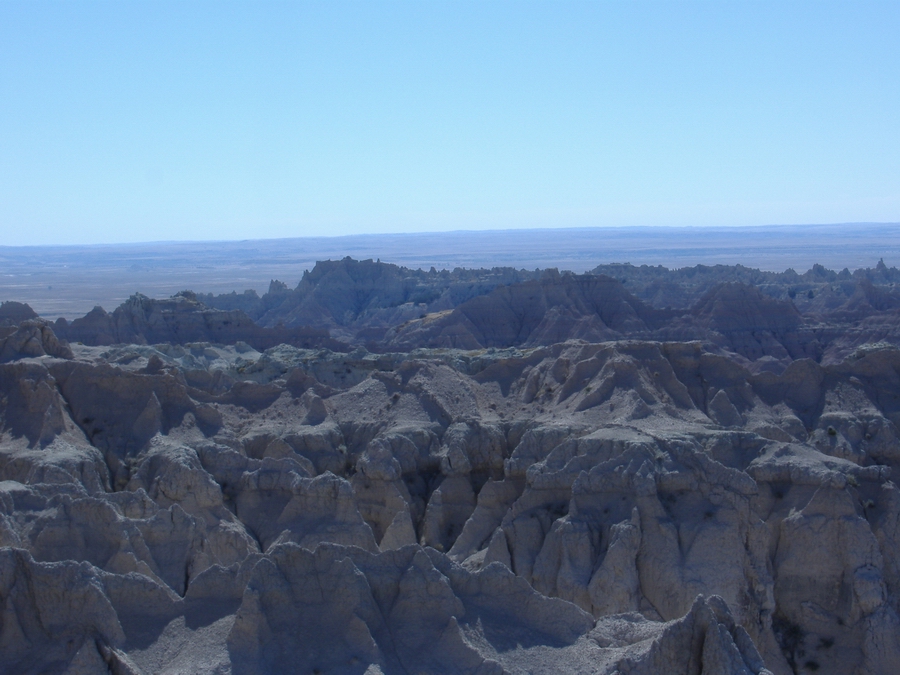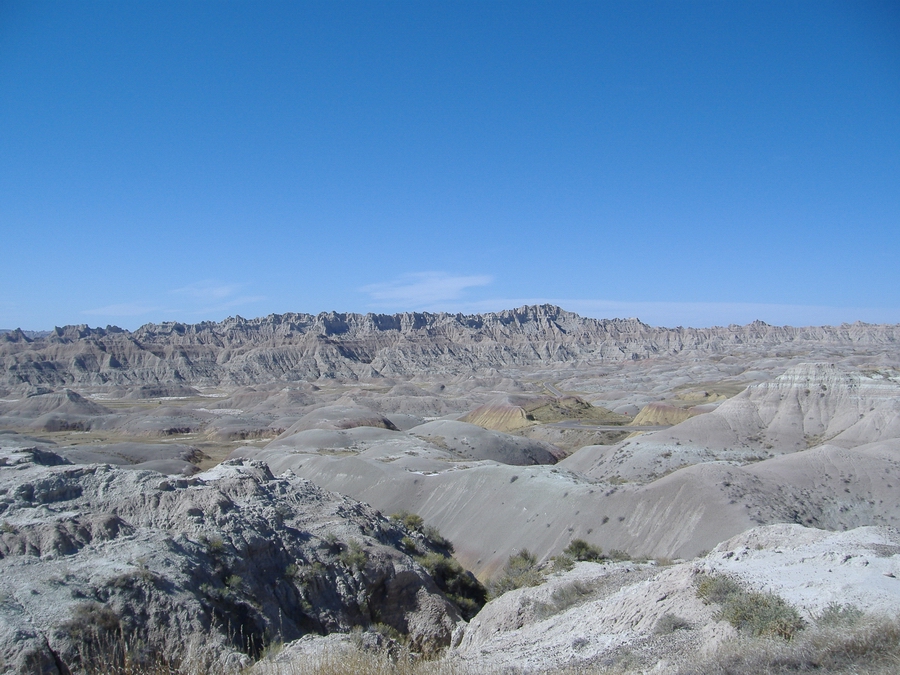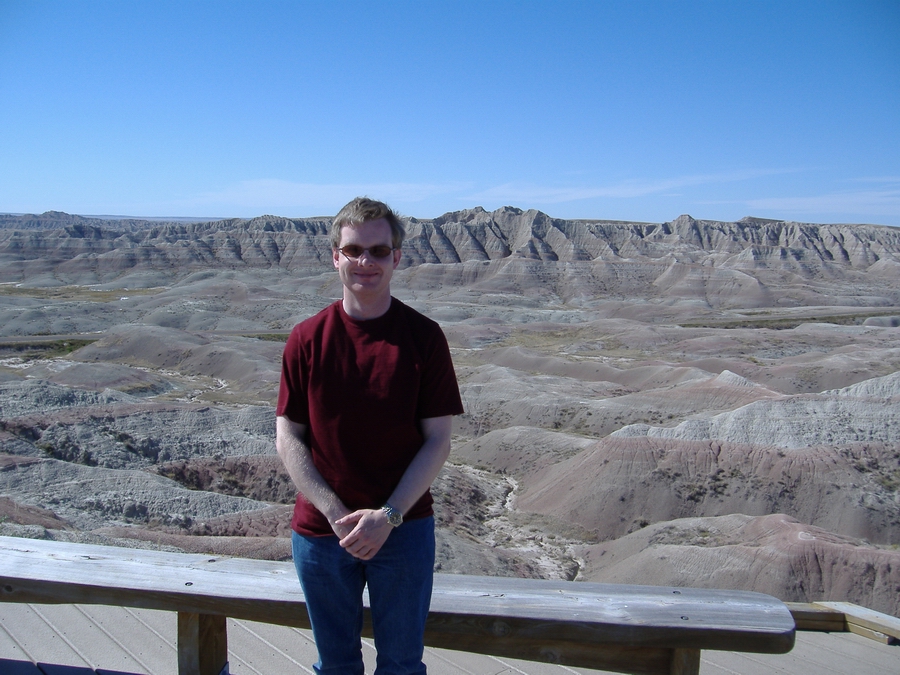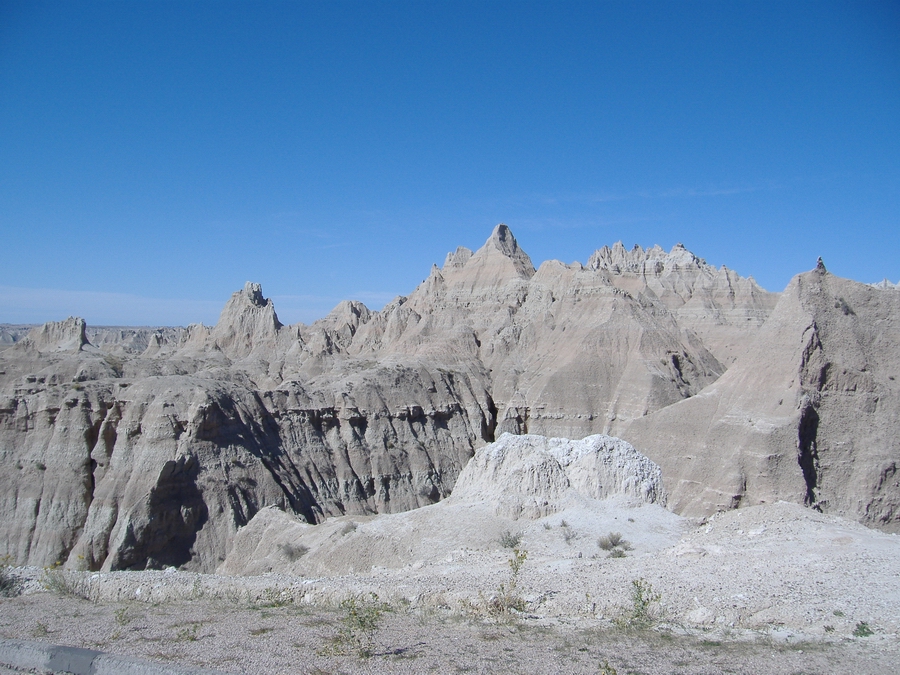 Having completed the loop, I made my way back to the airport on the highways,
careful not to exceed the VNE, and returned the mayors car to him. Again he
proved to be incredibly friendly, and gave me another souvenir, this time a
little flash light and laser pointer, together with a South Dakota aviation
chart, and tons of advice on how to find my next destination of Rapid City. In
return for his kindness, I left him with a souvenir leprechaun from Ireland.
My next flight, from Wall to Rapid City was a short one, taking just 30
minutes. In the afternoon heat, the flight was rather bumpy. Rapid City Airport,
which has the unfortunate identifier of KRAP, sits on the rocky face of South
Dakota at 3,200ft, and on this day, the density altitude was 4,500ft. There was
enough of a cross wind to test my skills, but thankfully all went well and my
arrival was smooth. Rapid City Airport is somewhat bigger than Wall Municipal,
with a runway of 8701ft. My aircraft was refuelled before I'd even managed to
put away my flight gear, and remove my bags! A great service by the FBO.
I had pre-booked a hire car, and a short time later I was on the road again,
for the one hour drive through the Black Hill of South Dakota, to Mount
Rushmore. Mount Rushmore, while quite large, is smaller than one might imagine,
and very much in the middle of nowhere. None the less, it was a very worthwhile
trip to see this piece of American culture.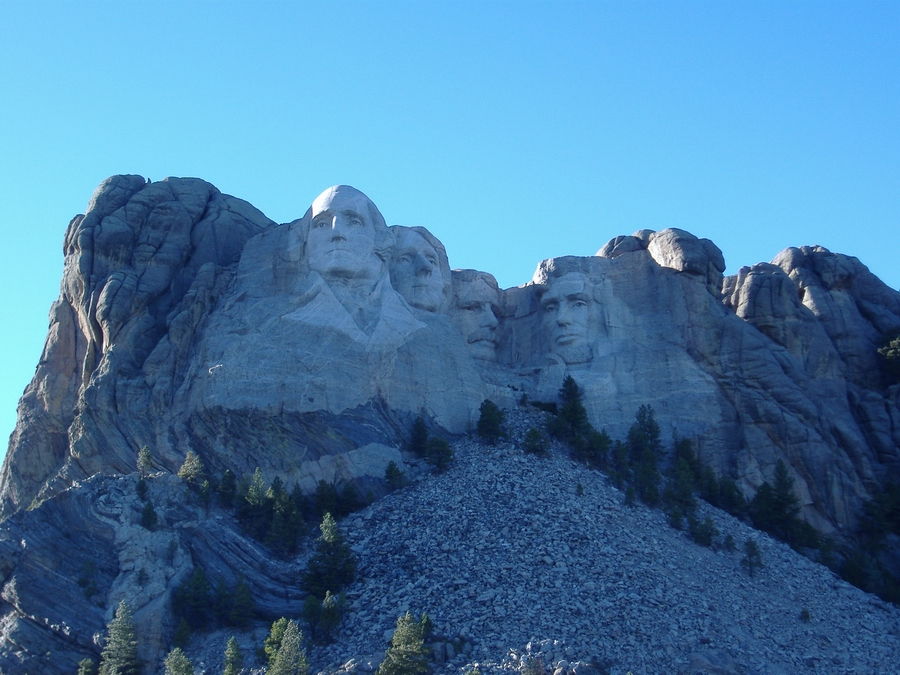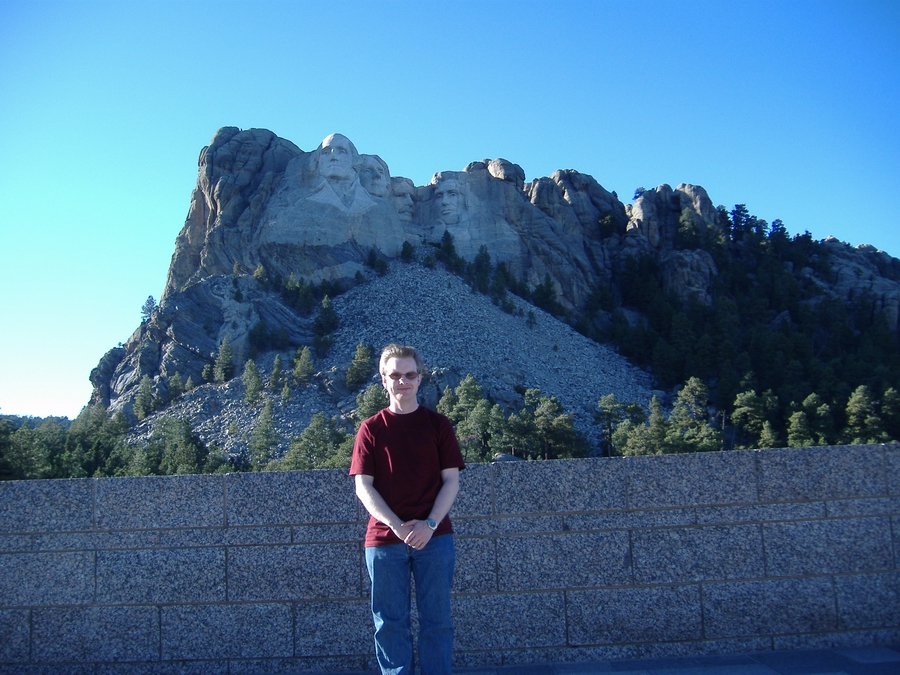 Also visited that evening was Crazy Horse, which is the Red Indian's
equivalent memorial. Again, a pretty unique site, which is still under
construction.
Sleep that night, was to be found in Custer, a small town in the heart of the
Black Hills, on the edge of Custer State Park.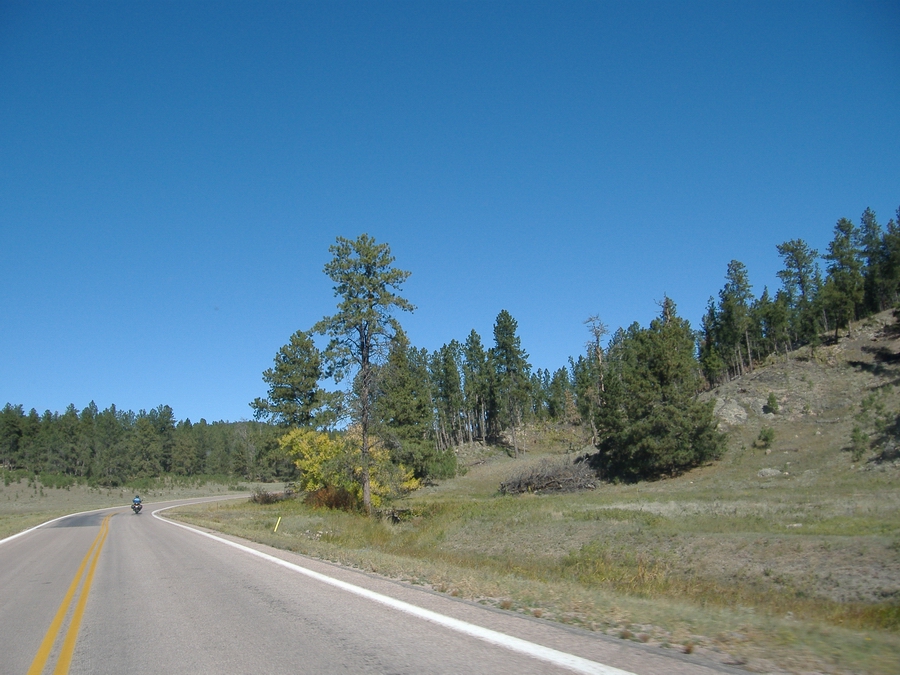 Unfortunately I woke up the next day to some miserable weather. The cloud was
only a couple of hundred feet above the ground level, (Ground level was about
5000AMSL) and it was raining. A check of my weather enroute showed low could,
heavy precipitation and thunder storms all along the route from Rapid City all
the way back to Lincoln. The TAF's showed that they'd clear up in Rapid City
fairly early that morning, and gradually clear along the route during day, and
finally clearing in Lincoln that evening. But there was no point sitting around
watching weather radar on PocketFMS! I had things to do and see, and a fairly
tight schedule if everything was to work out!
My plans for the morning were to visit Wind Cave National Park, and take
their guided tour. Wind Cave is one of the world's longest caves at over 125
miles long, and is famous for its box work formations. Their tour was enjoyable
and entertaining, though I would have loved to have taken the candle light tour,
which unfortunately had finished for the season.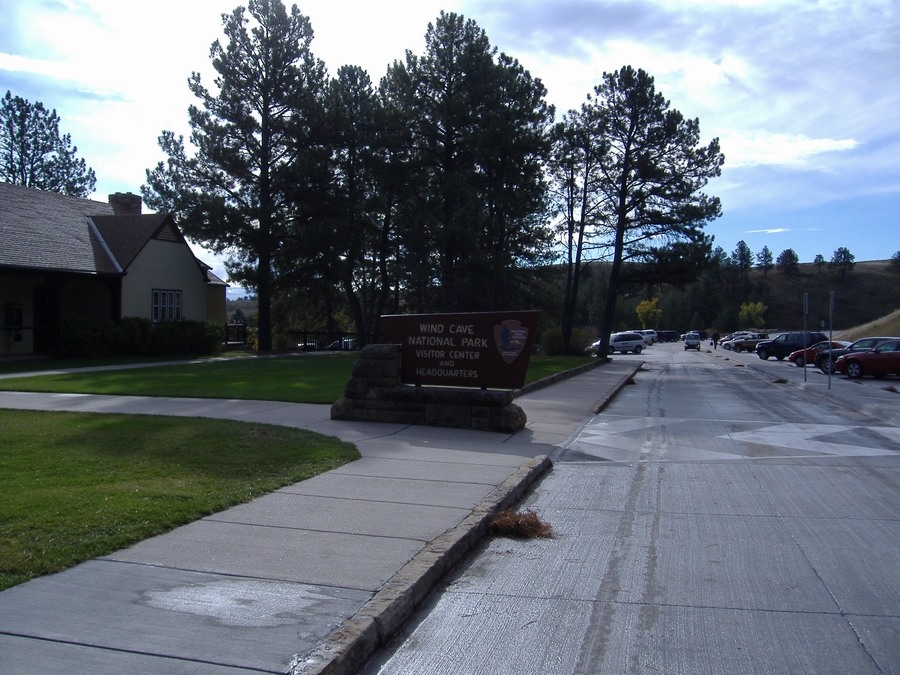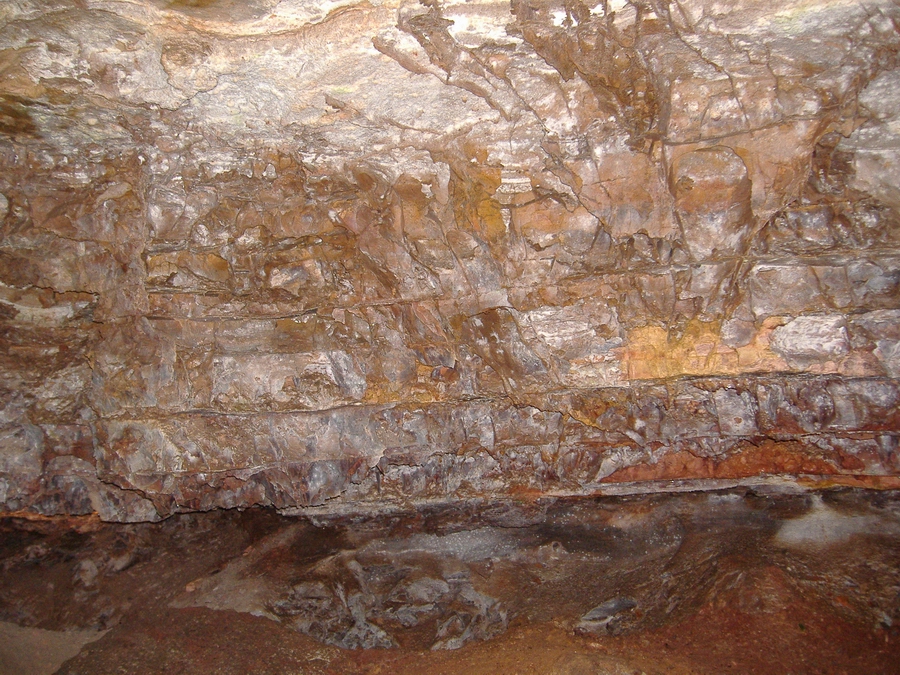 Having finished my tour, I snaked my way through the mountains and valleys of
the Black Hills, until I was reunited with my aircraft at Rapid City. The
weather at Rapid City was now excellent. Clear skies and perfect visibility. I
checked the weather and NOTAMs enroute. No problems with the NOTAMs at least,
and the weather had cleared up for about two thirds of my route. However Lincoln
was still stuck under very low ceilings, and heavy precipitation. Grand Island,
which I would reach with about forty five minutes to run to Lincoln, was also
under significant cloud, but it had shown significant improvements in the last
two METARS. So I waited for another hour, got the next two METARS, and now
Lincoln had started to shown early signs of improving. Grand Island now had a
significantly improved cloud base and visibility, and I was happy it would serve
as a good alternative if Lincoln's weather didn't improve in time. I couldn't
wait much longer or I wouldn't be able to make Lincoln before night fall. As I
didn't have a night qualification on my JAR licence which my FAA licence was
based on, I must be on the ground before official night. Even if I couldn't make
Lincoln, Grand Island was a good alternate, and would leave me with only a short
flight the following morning, which was more than acceptable.
I flew across the rugged and desolate terrain of the Badlands National Park,
and the remainder of South Dakota at 9500ft, and even at this lofty altitude,
Denver Center could not pick me up on radar!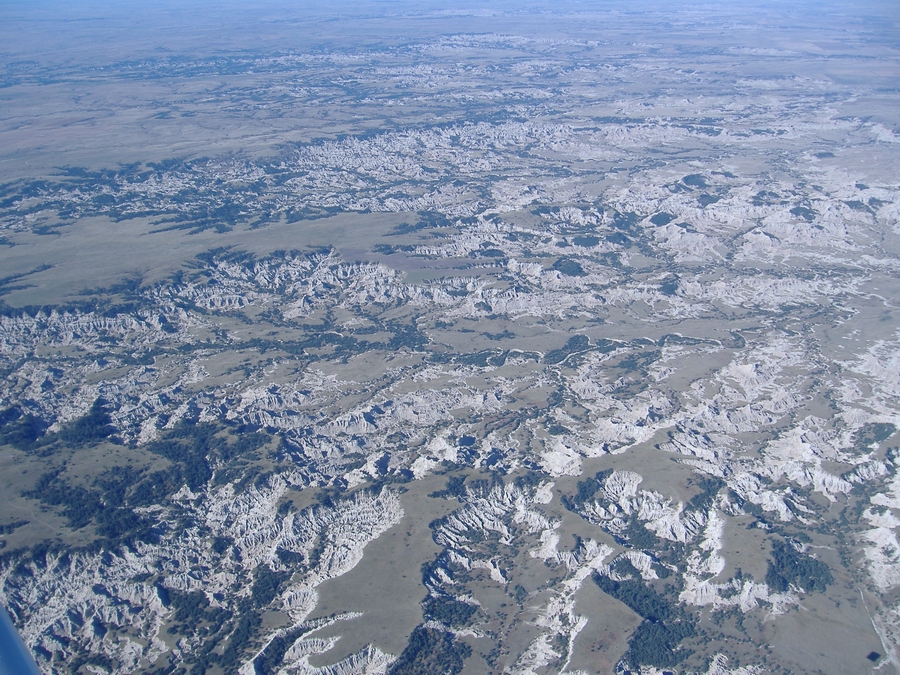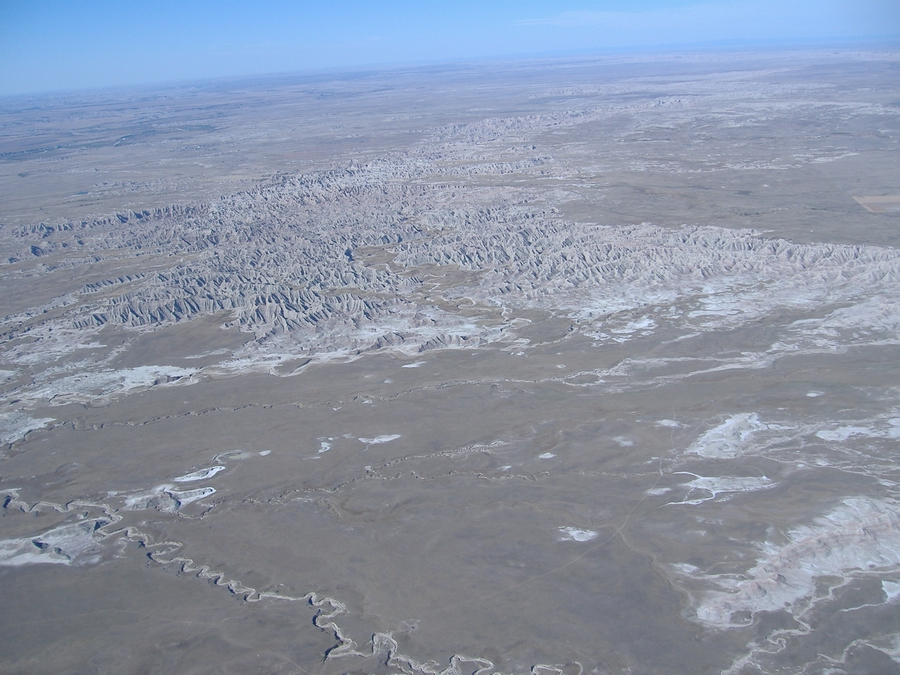 Visibility was excellent at about 50 miles, and the sky was cloudless here.
Yet for the first hour of the flight, I so no evidence of life except for one
small collection of mobile homes at one point, and I couldn't help but think of
Steve Fossett, and what it would be like to have an engine failure over terrain
like this. My chart (called sectionals in the US) lay thrown across the
passenger seat. There wasn't much to see on it, and there wasn't much in the way
of features on the ground to match up to it! It was useful for VOR frequencies,
and that was about it! Once again, I was very glad to have my familiar PocketFMS
working away loyally for me! Its familiarity was comforting in a situation where
everything else was different.
As I gradually crept toward the relative civilisation of Nebraska, I played
"spot the airfield". It's amazing and heartening to see all these little remote
rural communities with airports, boasting nice long hard runways. Each little
community seemed to have an airport of its own.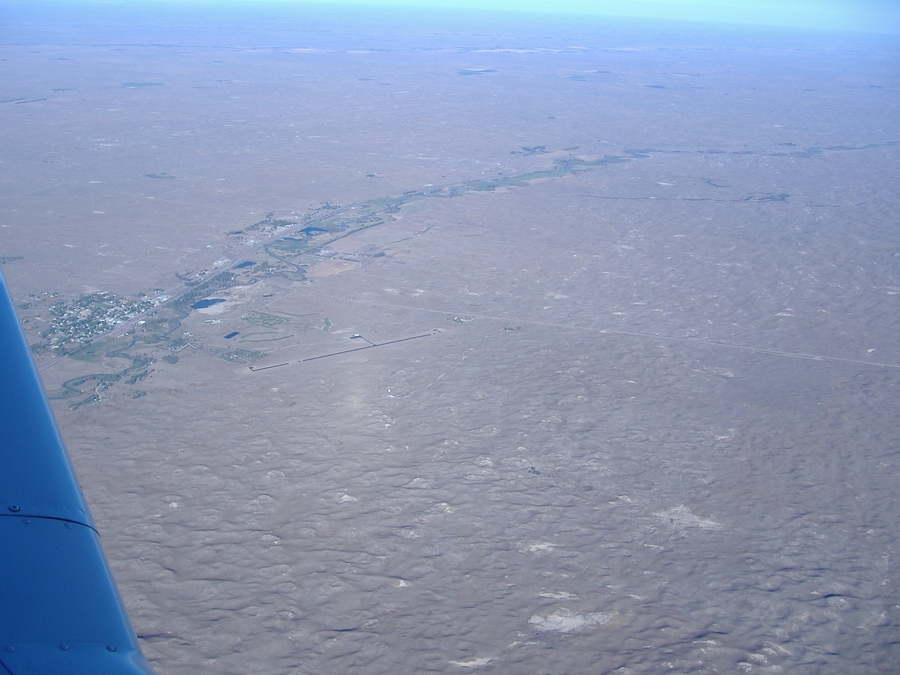 With about an hour to run, I asked center for the updated weather at Lincoln,
and was delighted to hear it was welcoming me back with clear skies! This flight
was to be three hours and 20 minutes in nil wind, but today I had a good tail
wind, which meant that I touched down, having spent just two hours and fifty
minutes in the air.
The aircraft rental company, citing the fact that I'd come from so far away
to fly with them, decided to charge me based on the Tacho rather than their
usual hobbs. As a result my BFR, and fly flying cost me just over €600! That's
about £400! The trip gave me a very different experience of flying than I am
used to in Europe, and showed the shear usefulness and utility of a light
aircraft! It gave me incredible scenery both in the air and on the ground, and
some memories that I'll never forget! All in all, it proved to be very enjoyable
and amazing value for money. I can thoroughly recommend Nebraska, MPP Aviation
of Lincoln, and flying in the USA in general to anyone!

Colm Farrell 2007

Last edited 2nd September 2013